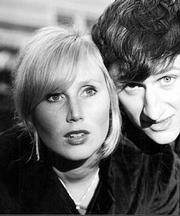 In the music world, Mates of State fall slightly off the mainstream radar. With their unconventional -- yet powerful -- drums and organ setup, Jason Hammel and Kori Gardner have just enough panache to win the hearts of indie music fans and tour with hip bands like Beulah and The Anniversary.
So when Hammel and Gardner sought a studio to record their third album, they found a logical place for a hip indie band to record -- a place that had played host to other hip indie bands ... like Kenny Loggins, Waylon Jennings, Tom Jones and Stevie Ray Vaughn.
What were they thinking?
"There were roach clips everywhere," says Hammel, drummer and male vocalist of the Mates of State pocket choir.
In case the hints aren't adding up, the studio in question is Willie Nelson's Pedernales Studio, home to legendary Willie records like "The Red Headed Stranger" and "Stardust." Tucked in the hill county 30 miles west of Austin, the studio is actually rather modest -- that is, if you don't take into account the 9-hole golf course, tennis courts and Olympic-size swimming pool.
"You're looking at Johnny Cash and Willie Nelson tapes ... like, the real tapes," gushes Gardner, the group's nimble keyboardist and female vocalist. "If we had an extra day we were going to come in and remix them for ourselves. But, um, we couldn't do it."
Past Event
Friday, October 17, 2003, 10 p.m.
Bottleneck, 737 New Hampshire, Lawrence
All ages / $8 - $10
Statehood
Like Willie, Mates of State are best at getting maximum mileage out of minimal instrumentation. Live, the duo creates a gigantic sound with belted-out harmonies that often blur the lines between singing and shouting. Gardner handles both the bass lines and the melodies on her crunchy Yamaha keyboard, while Hammel hammers away on his kit.
As the story goes, Mates of State formed by accident in the winter of 1997. While rehearsing with another band in Gardner's downtown Lawrence rehearsal space (Gardner played in a number of Lawrence bands including The Guenn Years, Vosotros and Chebella), Hammel and Gardner began fooling around with a recently acquired organ. The jam session sparked an experiment that soon turned into a full-fledged band. Five shows after their first performance at a KJHK open mic, Hammel and Gardner -- who had already begun dating -- took off for San Francisco.
"I don't think people would have liked Mates of State if we had stayed in Lawrence," Gardner says. "It was all really good music but it was all testosterone and it was all rock (referring to popular bands of the time like Kill Creek, Vitreous Humor and Boys Life)."
The leap of faith turned out to be a blessing. Two years, one album ("My Solo Project") and countless tours later, Gardner and Hammel quit their jobs and got hitched. The duo signed to Polyvinyl Records, a thriving indie label from Champaign, IL, for their second record, "Our Constant Concern," and hit the road again.
"The thing with this band is we've never really planned anything," Gardner says modestly. "We're not bored with it so we'll keep doing it."
Boo boos
Besides gawking at platinum records and hanging out at Willie Nelson's house (sans Willie, who was on tour), Mates of State did in fact record an album during their nine days at Pedernales Studio. The 11-song disc is titled "Team Boo," named after a friend of Willie's (Boo) who let the band into the studio each morning.
"We got made fun of in Portland," Gardner says. "There was somebody that wrote, 'That's the most barf-tastic album title ever.' I was like, 'Ok, it's a title.'"
'Team Boo' actually refers to the squad that helped make the record possible: engineers John Croslin (who did the bands' first record) and Jim Eno (also the drummer for Spoon) and a handful of guest musicians.
"This record was so much about teamwork and different people's ideas," Gardner says. "We went into it with more than enough songs so we could throw away something if we didn't like it. We ended up not throwing anything away."
As on previous albums, the lyrics were born out of collaboration. Hammel and Gardner draw inspiration from a variety of sources: life on the road, world politics and their own relationship.
"It's always kind of hard for me to say specifically what certain songs are about," Hammel says. "When I try to explain them they sound really mundane. It usually ends up ruining for the people who are like, 'Oh, it's that?' I'd rather we keep our meaning and you keep yours."
One song on the album that begs explanation, however, is "Parachutes (Funeral Song)," a delicate piano-driven tune about two lovers on a star-crossed sky dive. The song is written from the perspective of the bride, waving goodbye to her husband as her parachute fails to open: "What I had between the things I never tried was you reaching out in hopes that you could grab / I'd say that's better 'cause at least I know you tried."
Though Hammel and Gardner didn't know the couple directly, they heard about the incident from a base-jumping friend who knew the couple.
"Our friend is a base jumper too," Hammel said. "It just kind of hit close to home realizing that it could happen to him."
Team Celeb
Shortly after the album came out in September, Mates of State got wind of a possible posthumous addition to "Team Boo": Willie Nelson.
"His nephew claims that he did record on two tracks that we left at the studio, but we haven't gotten those tapes back yet," Hammel says. "It's kind of maddening to know that it may be true."
One (slightly less baked) celebrity that did join 'Team Boo' is eighties pop star Toni Basil, best known as the "Hey Mickey" girl. Basil helped the band shoot a video for "Ha Ha" during a stop in London last summer.
"The video is just her dancing -- not even dancing to the song that's playing -- but just dancing around," Gardner says.
Lately, many of Hammel's and Gardner's discussions have centered around a very different type of celebrity: California Gov.-elect Arnold Schwarzenegger.
"We were there (in San Francisco) the day after the recall happened and it was a really sore subject," Gardner says. "We keep saying we're not going back 'til he's out."
Homecoming kings
After three years in San Francisco, Hammel and Gardner decided to take a break from the bustling burg and move back to Gardner's childhood hometown of New Haven, Connecticut. The couple bought a house and began renovating it in between tours.
"We wanted to have a place where we could write a record in our basement," Gardner says. "We're hoping to make some money on it and then actually afford a decent place in San Francisco."
Saturday's show at The Bottleneck will be Mates' second of the year in Lawrence. The band plays frequently in its former hometown, drawing new (and younger) fans with each return trip.
"There's always a great feeling of nostalgia when we drive in and then 24 hours later I'm like, 'Ok, ready to go,'" Gardner says. "I sort of feel like if you spend six years there you've seen everything you can possibly see in Lawrence and it's time to move on."
Though she fondly remembers her six years in Lawrence, Gardner's nostalgia is tempered with the impression that the music scene could have been more than the sum of its parts.
"It could have easily been what Omaha is," Gardner says, referring to the popular Saddle-Creek label that hosts bands like Bright Eyes and Cursive. "There were great bands and great musicians, but it lacked the binding force of people deciding to actually do something with the music that was going on there."