Tuesday, October 14, 2003
Have you ever wanted to play video games before they were released? Come to the Kansas Union tonight from 5p.m.-10p.m. and your dreams will come true...for free.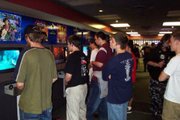 KU's Student Union Activities is sponsoring the Game Live Events tour tonight in the Kansas Union fourth floor lobby. Games will span across Playstation 2, Xbox, Gamecube and PC. Companies to be featured include EA Sports, EA Games, EA Big, Ubi Soft, Midway, Rockstar, Eidos, Vivendi and the U.S. Army.
Games include NBA Live 2004, Tiger Woods 2004, SSX 3, Need for Speed Underground, Lord of the Rings: Return of the King, Beyond Good & Evil, Splinter Cell: Pandora Tomorrow, America's Army, Legacy of Kain: Defiance, Spy Hunter 2, Rainbow Six 3, XII, Prince of Persia: Sands of Time, Batman: Rise of Sin Tzu, Ghost Recon: Island Thunder and others.