Thursday, October 16, 2003
The first week of October usually kicks off the video game holiday season with many AAA titles hitting the shelves. So is it sad or cool when an old school Nintendo game holds its own among the holiday's newest? I think it's pretty darn cool.
Enter Super Mario Advance 4: Super Mario Brothers 3 into the mix. SMB3 is arguably the best 2-D Mario adventure as far as new gameplay elements were concerned. The ability to fly was revolutionary at the time and translates to the Game Boy Advance perfectly...even with a slightly updated look.
Luigi is now also selectable as a character in the "Mario and Luigi" mode. He is more difficult to control with his slower speed and higher jumping capability, which will give those who have the game mastered a good challenge.
Most of you that already have the previous SMA's are probably assuming that it's the same old Nintendo additions that they put on the others. While it still has the Mario Bros. game playable, the kicker comes in the new levels that you can download from an e-reader. Two e-reader cards are included with the game. One is a power-up card and the other is a level card. You can collect and buy more cards as they are released in retail form, or in magazines or other venues Nintendo plans to use for their distribution.
The new levels are well-designed just like the original SMB3, with added elements from other Mario games like vegetable-throwing a la SMB2 and levels straight out of the original SMB!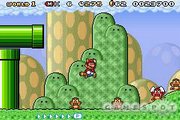 Also new to the game is a replay mode. Yes, a replay mode. There are two save spots on the game where you can save a whole level's performance if it is immaculate to behold. It sounds out of place at first until you make some incredible jumps and combo kills that you want to show your friends.
This is the most impressive SMA yet with expandability, coupled with the best Mario adventure for the regular NES. GBA owners would be foolish to pass it up.

Graphics: A-
Sound: A-
Gameplay: A
Replay: A-
Overall: 91% A-