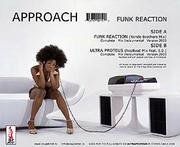 Lawrence's most visible MC/producer/promoter tries to take it to the clubs with a 12" vinyl of two standout cuts from 2002's "Ultraproteus" EP. Both tracks - 'Funk Reaction' and 'Ultraproteus' -- come with a remix and an instrumental version (of the remix).
For Approach, the record marks his first release for New York's Coup d'Etat Entertainment, a burgeoning indie hip-hop label that also hosts J-Live and the eternally annoying MC Paul Barman. Coup d'Etat will also re-release Approach's "Ultraproteus" EP in 2004.
Though the remixes are presented as the leadoff track on each side of the record, it's the original versions of the songs that really steal the show. The Rondo Brothers (who are part of the respected Dan the Automator team), have a hand at 'Funk Reaction' but their version lacks the signature wah-guitar hook of the original version. I'm at a loss about what they actually added to this song, other than their name, a couple bleeps, and cymbal fills.
Local hip-hop duo Archetype fairs much better remixing 'Ultraproteus.' Instead of simply rearranging it, producer Nezbeat re-imagines the tune as a retro hip-hop piece complete with old-school hand claps. The trick works, presenting a fresh take on an already solid tune.
As an MC, Approach's keep-it-clean style is geared for maximum live impact: "Party people in the place to be / Just ride with the tide and come along with me," he enthuses on 'Ultraproteus.'
His delivery is confident yet sometimes forced. Certain segments could probably benefit from a breath or two interspersed or more dynamic phrasing. Lyrically, however, he leaves little to be desired, verbally dancing around phrases like, "Wiser word power divine styler / Miracle mountain climber tightrope high riser" ('Funk Reaction').
If nothing else, the Ultraproteus 12 inch offers another reason to celebrate the emergence of Lawrence hip-hop on a national level (Approach and Mac Lethal have been busy touring the country via The Limited Liability Tour, while local duo SoundsGood also recently released a 12 inch vinyl). When Approach's album gets a national release in 2004, he should already have some ears perked up.