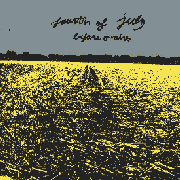 Brendan Hangauer sounds like a man scorned. On his first album as Fourth of July (he formerly fronted The Vespers), Hangauer plays the part of a two-timed lover obsessed with the complexities of his broken relationships. Each of the seven songs sounds like it was written either in a tearful, late-night fit of rage or right after waking up with a brutal hangover and a goodbye letter on the mantle.
The results are candid and often vulgar accounts of drinking too much, talking shit, making enemies, breaking up and waking up in unfamiliar places. On "Goodbye," a cheerless kiss-off to an ex-lover, he sings: "How the f@#! did it feel? / In the morning / With him wrapped around you / Like the snake that he is."
Thankfully, Hangauer's band -- which includes Ghosty frontman Andrew Connor on lead guitar and The Anniversary's Justin Roelofs on drums -- provides respite from his spiteful lyrics. The backing quartet (which also features his brothers Patrick and Kelly on upright bass and Rhodes organ, respectively) excels at creating a twangy Americana vibe to support Hangauer's raspy voice and simply strummed electric guitar chords. Connor's slide guitar contributes a ragged musicality to the group, while Roelofs proves adept at a low-key style of drumming (he plays guitar in the Anniversary).
On the surface, Fourth of July recalls indie folksters like Bright Eyes or Smog. A closer listen, however, reveals a more traditional set of influences, including Bob Dylan and Leonard Cohen. Hangauer's voice is stronger and more confident than on any of his previous bands' recordings; it practically begs for sympathy during the songs' most intimate moments.
"Before It Rains" works best on a sunny day as a reminder of how much better life is now than it was last night when you stumbled out of the bar and puked in the alley. For all the sad-bastard lyrical content, it's a surprisingly cheerful listen.