Take everything you remember about the original Jak & Daxter and throw it out the window. Developer Naughty Dog's ambitious "sequel" gets dark and dreary, pulling game play elements from a hodgepodge of different games.
Zelda. Mario. Grand Theft Auto. Tony Hawk. These fine franchises, among others, are evident in the missions and side quests of the new Jak II. From the opening sequence you know the tone of the game won't be fluffy whatsoever. Jak II seems very Ratchet & Clank at first, but explodes with so many game play elements that it is impossible to get bored. It is possible to get frustrated MANY times with backtracking in some quests, but there are plenty of original quests to almost make up for it.
In fact, there is almost no core element you could attribute to Jak II. This was designed as a strength but is its equal weakness. It's like fitting 10 people into a Yugo; you may be able to do it, but probably will be uncomfortable. Naughty Dog impressively made all of these elements come together, but the vast array of elements may alienate some gamers.
The worlds are beautiful. From the crowded streets to the open air worlds outside, Jak 2 is a showpiece for the PS2. Some character designs seem awkwardly polygonal, but a beautiful effort nonetheless. The voice acting and movie score-esque orchestra breathe a new life into the platform genre and work well in this exercise.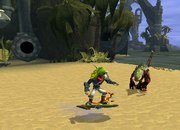 Jak II, although too ambitious, takes the place of Ratchet & Clank as the best "platformer" on the PS2. The question is: where can the genre go from here?
Graphics: A
Sound: A+
Gameplay:B+
Replay: A-
Overall 90% A-