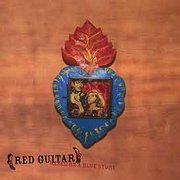 One of the year's happiest local surprises is Kansas City's Red Guitar, a charmingly simple Midwestern guitar-rock band that does all the little things right. Venturing into Tom Petty-esque Americana might spell disaster or blandness for less capable bands, but Red Guitar pull it off with gritty songwriting sensibilities, spotless harmonies and exacting arrangements.
From the first note, it's clear that "Based on a Blue Story" is a debut album in name only. All of the players have spent time in other K.C. bands (though the band's bio doesn't actually say which ones) and the album's production is top-notch. The album starts with a trio of would-be hits -- "Jump Out In the Water," "Inarticulate Blue" and "Let's Go Out" -- all of which recall The Jayhawks or Pernice Brothers. The group's two singer/songwriters (John McKenna and Nick Nave) are virtually indistinguishable, using their gentle voices to harmonize and carry the melodies.
The album drags a bit through the midpoint, but perks back up with the banjo-driven "Better Way to Move On" and the outstanding "California," a Petty-esque ballad with a killer acoustic guitar hook. "Aurora" closes the album on a high note, with delicate piano and an uplifting chorus.
Album Mp3s

Based on a Blue Story...
Red Guitar is the sort of band you might happen upon at a festival and actually put your chili dog down to listen to. They won't be winning any hipster points for originality, but they're certainly endearing enough to soften even the most jaded of listeners.