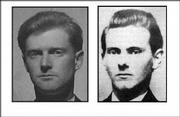 For the past 121 years Jesse James fanatics have preserved teeth, artifacts and family folklore in hopes of winning a genealogical war over when and where the infamous bank robber died.
Two former Jayhawks Bill Hoch and Scott Richardson hoped the tale they had to tell could end the fighting.
"This story was a new one that no one had explored," said Richardson, a Lawrence resident.
The two men produced an "Investigating History: The Mystery of Jesse James," an hour-long documentary for the History Channel exploring the controversy surrounding the outlaw's April 3, 1882 death. Specifically, a Neodesha family claims their great-grandfather Jerry Miah James was, in fact, Jesse James.
"It's just a really good story," Richardson said. "There is a family involved and there is emotion."
The story really began a little more than a year ago when Bill Kurtis, host and executive producer of the show, met the James family in Coffeyville.
After Kurtis gave an economic development speech, the family approached him and Richardson with its claim: that James really didn't die in 1882.
Chuck James wanted to exhume his great-grandfather's body and examine his DNA samples to prove they matched those of Jesse James' sister's descendants.
That's when "Investigating History: The Mystery of Jesse James" came to life.
"Here we are in 2003 doing a story about him (Jesse James)," Richardson said. "That's kind of amazing."
For the next six to eight months Hoch, Kurtis and Richardson rounded up Jesse James historians, DNA analysts and families claiming to be James descendants.
Kurtis shot much of the footage from his Red Buffalo Ranch in Sedan and Cowtown in Wichita. Although the summer heat made shooting days long, Richardson considered the experience a great history lesson.
"I learned as much about investigating as I did Jesse James," Richardson said. "He was a general media-savvy hoodlum."
As Kansans, the project had special meaning for the three men. They wanted viewers to see the Sunflower State beyond farmland stereotypes.
"Kurtis is trying to get people to look at Kansas in a variety of ways," Richardson said.
Aside from Kansas history, the segment illustrates how science can help solve historical mysteries. Kurtis enlisted top forensic crime experts, DNA specialists and forensic anthropologists to crack the case.
"(The documentary) shows the further away from an incident, the more complicated it can get," Richardson said.
The show airs at 9 p.m. Tuesday on The History Channel (Sunflower Broadband Channel 61).