Last year we were using EA's new Freestyle controls with the likes of Shaq, being able to school the likes of Alan Iverson. No more. EA has tightened up the simulation, added a few dashes of seasoning in a solid outing that still falls behind Sega's offering.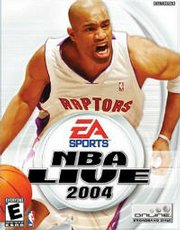 This year you have your season, one on one, practice and Dynasty modes. Dynasty is likened to taking the place of a GM where you can scout, sign and dine your players. You don't earn money but points to buy players. This detracts from the reality the mode was aiming for.
What also detracts from the experience is the tightly wound defense that make shooting a regular jumper almost impossible. The defense is too quick on getting to awesome passes. Many will be frustrated to the point that they will only want to bomb the three ball or dunk.
One improvement is the addition of a dunk button. It's separate from the shoot button. It totally sidesteps the "I wanted to dunk"-type expletives prevalent in all gamers of any basketball game. A welcome addition.
Also welcome is the ten-point motion capture that makes the player animations silky-smooth and fun to watch, if you have slightly blurred vision. Yes kids, it's that time again where we shake our heads at the pre-generational graphics from EA. The player models themselves are so terrible. EA can get away with it in Madden as per the helmets. But in the NBA, the lack of detail really dates the look of Live 2004.
Marv Albert and Mike Fratello yuk it up in the booth this year providing the best commentary available to the EA repertoire. It adds a great touch to the experience.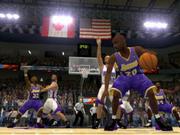 Unless you want to go online with the PS2 version, $50 is a lot to pay for a new roster each year. Add in sloppy, almost cheap, defense and a Dynasty mode that's not finely tuned and you have an update only the hardcore Live 2004 followers should pick up.
Graphics: C-
Sound:A-
Gameplay: B
Replay: B
Overall (not an average): 83% B
More like this story on Lawrence.com