Tuesday, October 28, 2003
ESPN NBA feels great off the bat. It's an intuitive and deep basketball simulation that pleases on every level and should be in every NBA fan's console.
New this year is the highly touted IsoMotion feature, allowing extra control over the ball handler and defender with the right analog stick. It brings an added intensity to one on one situation and is catered to the player's ability. It works well despite the fact that the defender doesn't always have to use IsoMotion to defend the ball handler's IsoMotion moves.
Also new is the 24/7 mode where you can create your baler and practice in real time. The game is tuned to the Xbox clock so if it's 8 p.m. in real life, the one on one pick up game you are playing is also at 8 p.m. in the game. You can buy attributes and travel to different places, gaining experience before taking your character into a real NBA game. There are different locales with different "bosses" if you will among certain areas you have to learn to beat. If you beat someone, they may give you a cell phone number to call whenever you want to team up for two on two. Cool.
The gameplay is smooth. Although there isn't a separate button for dunk and shoot like this year's live, executing both is still intuitive with the turbo button. Direct passing and setting picks are easy, but the defense is unforgiving to pansy shots. Still, with the right moves, you can school your opponent like the real NBA.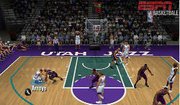 It just feels more like an NBA pace than its EA competitor. It's blatantly obvious when you play. The graphics are amazingly detailed with ALL real player faces and not just the stars. The Xbox even supports a true high definition 720p widescreen signal that is breathtaking.
The commentary is bad. I don't know what happened. Tom Tolbert and Bob Fitzgerald have never been so wrong and limited. They are great in real life...poor on the game. But in contrast, the sound effects are brilliant and deserve praise for how crisp the samples are.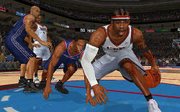 Overall, it's an experience that all PS2 and Xbox NBA fans shouldn't miss- especially if you're trying to break free from EA's efforts.
Graphics: A
Sound: B
Gameplay: A-
Replay: A
Overall: 90% A-