Tuesday, October 28, 2003
Las Vegas — Justin Timberlake bagged the Artist of the Year/Top 40 Radio Award at the 2003 Radio Music Awards.
"I thought I was just coming here to present an award," he said. "I get to take one home."
Other top awardees at Monday's show were Tom Petty and the Heartbreakers, who received the Legend Award.
Stevie Nicks presented the award to the group in front of thousands of cheering fans at the Aladdin hotel-casino on the Las Vegas Strip.
"He not only started out as my greatest musical influence, but today he's still my greatest musical influence," Nicks said.
The group performed two songs, "I'm Crying" and "Runnin' Down a Dream." Petty thanked radio stations for taking a chance on an "unknown band."
Beyonce opened the show with her sultry single, "Baby Boy," which the diva belted out surrounded by a ring of fire.
Other superstars included Jewel, Avril Lavigne and Michelle Branch. Nelly, P. Diddy and Murphy Lee hit the stage and sung "Shake Ya Tailfeather."
The hit won best driving song.
Tim McGraw was named Artist of the Year in the country category.
The two-hour show broadcast live on NBC also honored Michael Jackson, who took home the Humanitarian Award.
"Thank you for your love, your support, all that you've done," Jackson said.
Casey Kasem received the Radio Icon Award.
Brooke Burns of NBC's "Dog Eat Dog" and "American Idol" host Ryan Seacrest served as hosts for the show.
The nominees in each category were based on radio's top-playing songs. Radio program and music directors nationwide voted on the winners.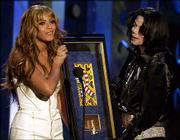 More like this story on Lawrence.com