Rogue Ops capitalizes on the industry's recent crush on tactical stealth action titles and provides an experience that has its moments.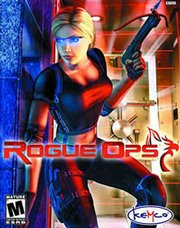 You take the role of Nikki, a widow out for revenge against Omega 19, a terrorist group responsible for the deaths of her husband and daughter. The main element is indeed stealth a la Splinter Cell, which it takes much inspiration, but not lessons, from.
You have a vast array of weapons, but dodging cameras, finding shadows and sneaking up for the kill is your main weapon. In the Xbox version, you can use voice commands via the communicator to switch weapons.
The hiding elements of the game are executed well but locating action points for your action icon are problematic, leaving the gamer clueless for what to do next. You eventually have to look up and down repeatedly to trigger the action icon to move to your next step, literally. This unrefined aspect is inexcusable, taking away from the overall experience.
The game is overly difficult. You learn how to be stealthy only to be betrayed by your training. For instance, when your radar shows you are not in the sight of a security camera, you will move, somehow still triggering the camera. Now you have to start the mission over, learning the camera's nuances regardless of what your radar indicates.
The action is pretty average. There are some smart and innovative solutions for you to figure out but are too few to recommend. The voice acting is laughable, likened to a soap opera more than a serious stealth game. The graphics don't help either, playing a tug of war between cartoon and reality. The art style is confusing yet purposeful.
If I were you I would hold tight until Splinter Cell: Pandora Tomorrow. If you are just foaming at the mouth for some new stealth missions, Rogue Ops may serve as a decent appetizer.
Graphics: C
Sound: C-
Gameplay: C-
First Play: C
Last Play C-
Overall: 70% C-
More like this story on Lawrence.com