Monday, September 1, 2003
Los Angeles — Hollywood banked big on sequels this summer, scoring hugely on a couple but falling short of the industry's pie-in-the-sky expectations on many.
Studios dodged early forecasts of a slump in box office receipts, riding a late surge of hits that produced another summer of record revenue.
The main surprise was the little fish that could. No one figured the goofy sea creatures of "Finding Nemo" would swim past the daring heroes of "The Matrix Reloaded" to become the year's top-grossing film.
"Finding Nemo" has climbed to $330 million in domestic ticket sales, passing "The Lion King" to become the highest-grossing animated film ever.
Summer's most anticipated movie, "The Matrix Reloaded," came in second at $279 million. Another surprise blockbuster, "Pirates of the Caribbean: The Curse of the Black Pearl," is creeping past $270 million and could commandeer the summer's runner-up slot.
Add in "Bruce Almighty" and "X2: X-Men United," and a record five summer movies crossed the $200 million mark. Twelve have topped $100 million, with four others positioned to do so, breaking the record of 13 $100 million movies in summer 2002.
Among the hits were "Terminator 3: Rise of the Machines," "Bad Boys II," "The Hulk" and "S.W.A.T.", along with sleeper success "The Italian Job" and the drama "Seabiscuit."
Mixed results
From early May through Labor Day, domestic grosses are expected to total $3.87 billion, up 2 percent from summer 2002's record, according to box-office tracker Exhibitor Relations.
With an estimated 4 percent rise in admission prices, though, ticket sales will be down about 2 percent from summer 2002, the first decline in three years.
Star power proved unreliable in guaranteeing box office success. The Jennifer Lopez vehicle "Gigli" was universally panned by critics and reaped low profits.
Sequels backfire
Hollywood once dashed off cheap sequels to wring a few more dollars out of a blockbuster brand name. Franchises such as "Austin Powers" and "The Mummy" taught the industry that by investing more up front to bring back key talent, sequels could produce larger paydays than their predecessors.
That backfired on some franchise flicks this summer. Studios shelled out bigger and bigger sums for talent and advertising, then found audiences far less interested in sequels than anticipated.
"The Matrix" and "X-Men" sequels easily outgrossed their predecessors. Others fell well short, including "Terminator 3" (topping out at about $150 million compared with $205 million for 1991's "Terminator 2: Judgment Day") and "Charlie's Angels: Full Throttle" (barely crawling past $100 million compared with $125 million for the first movie).
Sequels to "Legally Blonde" and "The Fast and the Furious" also were underachievers compared to the original flicks. "Lara Croft: Tomb Raider -- The Cradle of Life" rolled over and died, taking in just half the $131 million domestic total of the first "Tomb Raider."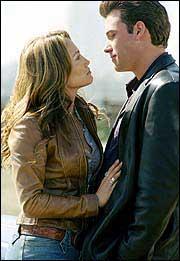 More like this story on Lawrence.com