Tuesday, September 2, 2003
Los Angeles — Charles Bronson, the grim-faced tough guy who built a European following before making his mark in the United States with action films including the "Death Wish" series, wondered if he was too manly to achieve instant stardom in his home country.
"Maybe I'm too masculine," he said in a 1971 interview. "Casting directors cast in their own, or an idealized image. Maybe I don't look like anybody's ideal."
The 81-year-old actor died Saturday of pneumonia at Cedars-Sinai Medical Center with his wife at his bedside, publicist Lori Jonas said. He had been in the hospital for weeks.
During the height of his career, Bronson was hugely popular in Europe; the French knew him as "le sacre monstre" (the sacred monster), the Italians as "Il Brutto" (the ugly man). In 1971, he was presented a Golden Globe as "the most popular actor in the world."
Bronson left a featured-role career in Hollywood to play leads in films made in France, Italy and Spain. His blunt manner, powerful build and air of danger made him the most popular actor in those countries.
At age 50, he returned to Hollywood a star.
His early life gave no indication of his later fame. He was born Charles Buchinsky on Nov. 3, 1921 -- not 1922, as studio biographies claimed -- in Ehrenfeld, Pa. He was the 11th of 15 children of a coal miner and his wife, both Lithuanian immigrants.
Young Charles learned the art of survival in the tough district of Scooptown, "where you had nothing to lose because you lost it already." The Buchinskys lived crowded in a shack, the children wearing hand-me-downs from older siblings. At the age of 6, Charles was embarrassed to attend school in his sister's dress.
Charles' father died when he was 10, and at 16 Charles followed his brothers into the mines. He was paid $1 per ton of coal and volunteered for perilous jobs because the pay was better. Like other toughs in Scooptown, he made trouble and landed in jail for assault and robbery.
Drafted in 1943, he served with the Air Force in the Pacific, reportedly as a tail gunner on a B29. Having seen the outside world, he vowed not to return to the squalor of Scooptown.
He was attracted to acting not, he claimed, because of any artistic urge; he was impressed by the money movie stars could earn. He joined the Philadelphia Play and Players Troupe, acting in a few minor roles.
In 1954 he changed his last name, fearing reaction in the McCarthy era to Russian-sounding names.
Bronson's first starring role came in 1958 with "Machine-Gun Kelly," an exploitation film made in eight days. But real stardom eluded him, his rough-hewn face and brusque manner not fitting the Hollywood tradition for leading men.
Alain Delon, like many French, had admired "Machine-Gun Kelly," and he invited Bronson to co-star with him in a British-French film, "Adieu, L'Ami" ("Farewell, Friend"). It made Bronson a European favorite.
Among his films abroad was a hit spaghetti western, "Once Upon a Time in the West." Finally Hollywood took notice.
His most controversial film came in 1974 with "Death Wish." Bronson made three more "Death Wish" films, and in 1987 he defended them: "I think they provide satisfaction for people who are victimized by crime and look in vain for authorities to protect them. But I don't think people try to imitate that kind of thing."
Bronson is survived by his wife, Kim, six children and two grandchildren. The funeral will be private.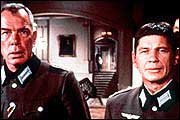 More like this story on Lawrence.com