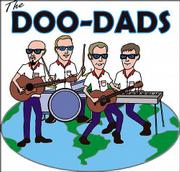 Matt Kesler is singing about potty.
No, the 40-year-old musician does not have a potty mouth. Rather, he is expounding on it quite literally ... and even helpfully.
"Our big hit right now is called 'Let's Potty,'" says Kesler, one of the founders of the kids-themed rock band The Doo-Dads. "It's kind of a rockin'/hip-hop thing about leaving those diapers behind and getting on the potty train: 'Sit down and potty/Where you gonna go when you gotta go?'"
The Doo-Dads are the brainchild of four well-known veterans of the Kansas City music scene, all of whom are now knee-deep in parenthood. After years of playing late-night club gigs, they decided to focus their attentions on catering to a younger, daytime audience.
"One thing that's been such a blast is hanging out with these guys again," says Kesler, who plays bass, guitar and alternates lead vocals in The Doo-Dads. "Now, we're not confined to any specific type of music. We can do kind of a country thing and switch right into something Beatles-esque. We can use sound effects ... we can even sing about going potty (laughs)."
The group members -- Kesler, singer/guitarist Mike Niewald, drummer Joe Gose and keyboardist Bill Honan -- each have children, ranging in ages 2 through 11. While they write music intended for that youthful demographic, the bandmates insist their upbeat material is an artistic cut above mainstream fare.
"It's good music, not like some of the real annoying stuff out there," he says of the tunes, five of which are on the act's just-released EP "You Are Here." "It's a little deeper. It's not Barney-fied in any way.
"Some songs are pretty obvious what they're about, like 'Brush Your Teeth' and 'Say Please and Thank You.' Joe sings one about trying to swat a fly and ending up with peanut butter in his ear. We've also got one called 'Hidden Picture Sky' that's about looking at clouds and using your imagination."
Forefathers of The Doo-Dads
"What sparked us to get into doing this was we enjoyed playing music for our kids," says Kesler. "Mike was kind of the instigator of it, because he was probably the first to have kids."
The musical precursor to The Doo-Dads first took shape as a simplified acoustic duo.
"It was just Mike and I monkeying around with a drum machine, and we were like, 'This is nonsense, let's call Joe.' Then I got this keyboard and was trying to figure that out, and I was like, 'Why don't I just call someone like Bill?'"
The four officially convened in July 2002.
"By the next week we had a preschool gig where we went and played five songs," he says.
Although it was the first time any of the guys had played for a congregation of 4-year-olds, they had previously experienced just about every other kind of performance environment thanks to careers that stretch back to the mid-1980s.
Kesler is a veteran of The Pedal Jets, one of the first KC alt-rock groups to land a national record deal. Niewald fronted both The Bindlestiffs and Absolute Ceiling. Gose drummed in the latter, as well as with The Saddlemen, and Honan was a member of The Yardapes. Additionally, both Kesler and Honan performed standards together for years in The Midtown Jazz Quartet.
"We haven't had to work as hard as we used to in order to get things to happen," says Kesler of the Doo-Dads' success. "Typically, people really like it."
"The kids love them because they're allowed to jump around," says Mike McCoy, a manager at Lawrence's Half Price Books, 1519 W. 23rd St. "Their songs are geared toward children, but it's really GOOD rock and roll."
McCoy -- best known to area audiences as the lead singer/guitarist of the infamous punk-pop act Cher U.K. -- was responsible for arranging Saturday's gig. Although quite familiar with the individual musicians and their prior "adult" projects, he was won over by The Doo-Dads after seeing them perform at a Kansas City bookstore.
"I like their goofy riffs and infectious daddy-pop," McCoy adds.
Conquering the world
Even though they've barely been together a year, The Doo-Dads have sold out many of the venues at which they've appeared thanks to what the ensemble describes as a "full-on rock show."
Live, the quartet dresses in matching white and red bowling shirts and blue-lensed sunglasses. They also crank up a bubble machine for a mood setter and hand out retro-styled coloring pages of the band.
Yet Kesler claims gimmicky visuals aren't necessarily a priority.
"It's the music that becomes the thing. We're not dancing around like The Wiggles," he says of the Platinum-selling children's outfit from Australia. "I really don't like being compared to The Wiggles either. I appreciate them. In fact, I've seen them several times and I've even met them. Their production is great. But the big difference is that our songs have way more of a message."
The five tracks on "You Are Here" are just an appetizer for audiences awaiting a full-length album. Kesler says they have 16 new ones already recorded and plan on releasing a disc in October.
"I'd like to take it as far as it will go," says Kesler, who's owned Midwestern Musical Co. in Shawnee Mission for the past 14 years. "It would be great if we could get to the point where we've got a cartoon or a TV series and can work on the visual aspect of it, either through animation or live video. But we want to keep it focused on the fact that we are a BAND."