Friday, September 5, 2003
Microsoft's entry this year finds itself riding the fence between arcade action and true football simulation. You have all the online support you need and a great Dynasty mode, but the gameplay suffers from feature overdose. Sometimes your routes have so many button options your screen is so convoluted and when you actually execute the play, the buttons seem unresponsive. This alone should keep most playing Madden or ESPN.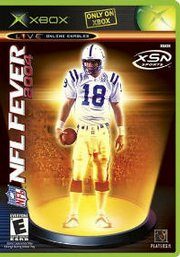 The graphics are also bi-polar. With great player color details comes awkward body shapes. With incredible running animations come huddle animations likened to abysmal Terminator 1-ish stop animation.
NFL Fever does have the best and most accurate commentary hands down, but it's not enough to warrant a purchase over Madden or ESPN. But the series does have promise for next year unlike offerings from 989 Sports.
Graphics: B
Sound: A+
Gameplay: B-
Replay: B+
Overall: 84% B