Friday, September 5, 2003
Why?! How?! I am impressed that 989 Sports has the nerve to try again this year to build upon the worst NFL simulation in video game history. The animations are laughable and the graphics, although better, are PS1 caliber at best.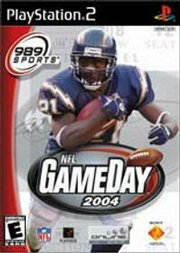 The best part of this franchise is the online options. Unfortunately that isn't a weapon anymore since there are other games online this year with equal features.
The worst part, which remains bafflingly awful, is the gameplay, specifically the AI. On the highest difficulty, you can get away with 15 seconds in the pocket, which is hardly necessary since half of your receivers are usually open because defense is hardly played by the computer.
The sound is solid with great delivery from Dick Enberg and the anticipated idiocy from Dan Fouts. A good show.
Despite the great job on commentary, the game just isn't fun. There is no reason for you to waste your time or money.
Graphics: C-
Sound: B+
Gameplay: D-
Replay: C-
Overall: 68% D+