George Blackwood's Cherokee "granny" used to tell him beads had a life of their own.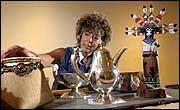 "They're like little people," she'd say. "What we're doing is putting them together like a community."
Blackwood watched as his grandmother joined beads the size of a pencil tip into colorful geometric patterns that conformed to the shape of the feather fans, hand tools or other objects she adorned. Her technique of choice was peyote stitch.
Blackwood's task was to keep the beads organized by color and gather dropped beads from the floor nearby.
"She had a way of making me feel like my job was important," Blackwood recalls.
Decades later, Blackwood has dedicated himself to another important job: preserving the beading tradition passed down by his granny.
"I didn't actually start serious bead work until 11 or 12 years ago," he says. "I've been around bead work all my life but just really didn't take it on that seriously until I began to realize people in my family that did bead work were all dying out."
His wife talked him into entering the Lawrence Indian Arts Show in the mid-1990s, and he walked away with a merit award and a mention in Southwest Art magazine. Now, he shows work and conducts workshops across the country. He submitted several pieces to this year's Lawrence Indian Arts Show, which opens with a benefit reception Friday at its new home in the Lawrence Arts Center, and will teach peyote stitch during a workshop Oct. 13-15.
Maria Martin, who has coordinated the show since it began 15 years ago, says the reflection of native tradition in Blackwood's work is common to much of the art in the show, which draws American Indian artists from indigenous groups across the nation.
"So much of why they (Indians) create the art is based on tradition and trying to rekindle, bring back or keep alive the traditions," she says.
Bridging cultures
Often, however, the art bears contemporary twists. Machines hone beads that once would have been hand-formed. Hand-coiled clay pots may be fired in electric kilns instead of pit firings fueled by cow patties. And though traditional images and forms are common in the work, a painting of an elder in ceremonial dress, encircled by spirit forms may hang next to a pencil drawing of a muscular woman leaning provocatively against a motorcycle.
The variety, Martin says, helps defy stereotypes of American Indians. One of the goals of the show is to foster cross-cultural understanding, she explains.
"You eliminate some of the bad stereotypes by having people realize that 'Wow, people are all the same. We're all doing the same thing. We're all trying to make a living, to raise our families and provide shelter for ourselves.'"
Lawrence Indian Arts Show, opens with a benefit reception from 7 p.m. to 9 p.m. Friday at the Lawrence Arts Center, 940 N.H. Exhibit runs Saturday through Oct. 11.
"American Indian Art at the Spencer Museum," opening reception from 6:30 p.m. to 8:30 p.m. Friday in the Central Court of the Spencer Museum of Art, 1301 Miss. Runs through Oct. 11.
15th Annual Haskell Indian Art Market, 10 a.m.-6 p.m. Saturday and 10 a.m.-5 p.m. Sept. 14 at Haskell Indian Nations University. More than 170 artists will display and sell their work.
"Winter Count in Quilts," quilts by local American Indian women and one 9-year-old boy, through Sept. 30, entrances and lower level, Lawrence Public Library, 707 Vt.
Reading by Lawrence poet Clifford Bernie, an Ihanktonwan Nakota, 7 p.m. Sept. 16, Lawrence Public Library, 707 Vt.
Navajo weaving workshop by Kalley Keams Lucero, Oct. 1-5, $400 registration and materials fee, Lawrence Arts Center, 940 N.H., 843-2787.
American Indian beading workshop by Lawrence artist George Blackwood, $250 registration and materials fee, Oct. 13-15, Lawrence Arts Center, 940 N.H., 843-2787.
The varied works also illustrate that "The American Indian is a number of different peoples and different tribes. I think that's important for people to understand," Martin says.
"I think art is probably one of the best medias to bring people together in a positive way. I think the show does this."
The juried show and the two-day Haskell Indian Art Market, set for Saturday and Sunday on the campus of Haskell Indian Nations University, lure about 40,000 people each year, Martin says.
Jurors are in town today to decide which pieces will end up in the show and which rise above the rest to merit award money.
'Learn it and carry it on'
Martin is excited about the juried show's new venue at the arts center.
"You can't get any better than this for an exhibit space," she says.
The only element missing from the show's days at Kansas University's anthropology museum -- which closed last fall as part of budget cuts at the university -- is the juxtaposition of contemporary American Indian art with ancient Indian artifacts.
"The anthropology museum has a very, very big holding of American Indian art objects," says Martin, who once worked at the museum. "There was a lot already in the permanent exhibit, but a lot of these pieces sort of reflected back to that."
Blackwood never really knew much about the history of his craft until a few years ago. He learned to appreciate his ancestors, who made their own beads from wood, stone, bone and clay, when it took him 45 minutes to craft a single bead from an elk's tooth.
He also discovered that although the Kiowa nation is often credited with inventing peyote stitch, they actually learned it from the Kickapoo, who were being moved to Oklahoma from the North.
"It wasn't until maybe four years ago that I really started wanting to find out where the stitch itself came from, why it was called peyote stitch and why it was associated with the peyote religion," he says. "It really adds meaning to the work you're doing."
Blackwood has taught peyote stitch to one of his sons, and his grandson has even picked up a little from watching his grandfather.
"What I try not to do is push people into it because, looking at myself, it took me a couple of generations before I was really ready to go after it. I'm sure most people aren't ever going to really take it up," he says. "Through these workshops, maybe people will learn it and carry it on, and somewhere down the road, maybe an unborn grandchild will catch the fever, so to speak."