Friday, September 12, 2003
TOKYO - Nintendo (news - web sites) Co.'s Game Boy Advance hand-held machine now works as a videophone with an attachment that comes with a digital camera, earphone and microphone.
The 13,000 yen (US$110) Campho Advance from Kyoto-based Digital Act Co., which makes mobile and Internet equipment, slips into the top of the Game Boy Advance just like any video-game cassette.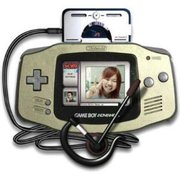 When connected to an analog telephone outlet, the display shows live video of the person on the other end of the line, who must also own both the Game Boy Advance and the Campho Advance. Your own image will show up in the corner of the display.
Campho Advance, which goes on sale only in Japan in December, requires no Internet service provider. Developers are working on a broadband device but have no plans to sell the product overseas so far, company spokesman Kazuhisa Saito said Friday.
Nintendo has sold more than 10 million Game Boy Advance machines in Japan, and about 34 million worldwide.