Sunday, September 14, 2003
Tim Mikkelson and Phyllis Wright-Herman like to say they started their business "on a goof."
The longtime friends and airline employees were flipping through one of Mikkelson's mother's immaculate family photo albums, entertaining themselves by making fun of the people in the dated snapshots.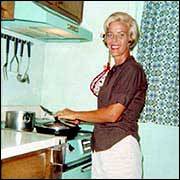 "It involved a mix of alcohol and sarcasm," Mikkelson says on the phone from Charlotte, N.C.
While downing a bottle of champagne, the pair started pecking out smart-aleck captions on a vintage typewriter they'd bought at a yard sale. They glued their favorite combinations to construction paper and took them to a party in New York City as a hostess gift.
"All these people were going ape over them," Wright-Herman says. "It put a seed in our head. Maybe we should do this."
Thus began MikWright, a line of irreverent cards that takes the sap out of the greetings industry and leaves shoppers rolling in the aisles -- no exaggeration. Hobbs employee Chelsea Schlievert once witnessed a customer at the Lawrence store's MikWright rack fall on the floor laughing, card in hand.
What could possibly inspire such hearty guffaws?
How about an aghast baby -- mouth wide and hands on cheeks -- next to this caption: "You're kidding! I get both nipples?"
Or a young man wearing a bow tie and an eager smile, sitting on a fire hydrant: "Now that I've got old lady Kravitz' house set on fire, it should be about three minutes before those big, strong firemen arrive. Do I look alright?"
What began in 1992 as a literally in-house operation -- Mikkelson wrote the less-than-politically correct captions, and Wright-Herman manned the paper cutter and Elmer's glue bottle -- has grown into an empire. MikWright distributes more than 200 unique visual jokes to more than 3,000 retailers in the United States and abroad. Mikkelson and Wright-Herman -- who have, needless to say, abandoned their airline jobs -- employ several full-time workers and have expanded their business to include cocktail napkins, notepads, journals, boxed notes, mugs, photo albums, magnets, coasters, calendars, T-shirts, mouse pads and even six books.
They'll be in Lawrence Thursday to sign merchandise and pose for pictures with fans at Hobbs.
'In-your-face innuendo'
Despite their good fortune, Mikkelson and Wright-Herman, both 41, remain very hands-on. And the spirit of their cards hasn't changed.
On the front of each is a family photograph from the 1950s to the 1970s -- all real shots of the creators' families or those of friends, hand-glued to card stock by one of six MikWright gluers. Witty, sarcastic and often risque captions await readers inside.
The trick to reeling people in is stroking their egos, Mikkelson says.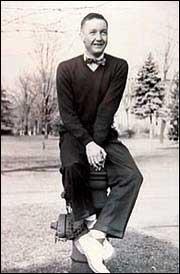 "The reality of it is that people are so used to dumb humor, and not to say that there's not a place for Hallmark, because there is, but a lot of humor gets dumbed down to the lowest common denominator," he says. "We don't make things blatant. It's very much innuendo, in-your-face innuendo."
Like the shot of Mikkelson and his older brothers, lined up in their Sunday best: "Kent is now eleven and still wets the bed. Danny turns eight in January and is failing remedial math class. Timmy, our six year old, only answers to 'Jessica.'"
Or, not quite as subtle, a photo of two women lounging poolside that reads, "The gals were left alone whilst Gary and Ronnie went to the boat show. They loved their husbands ... and everyone else's too, for they were whores."
So do Mikkelson and Wright-Herman's families hate them?
"No, no," says Wright-Herman. "Well, they may hate us, but they don't tell us they hate us.
"My mother's response was, 'Oh honey, I don't care what you say. We love you. Go ahead. It doesn't matter. We just love you. We'll support anything you do.' So when I called her a transsexual, she really didn't care."
Gay men and women with mustaches
Though, in a sick way, it might be funnier to think of people being surprised to find themselves targeted on a MikWright card, that's not how it works. All the "victims," including Wright-Herman's in-laws, sign off on the creations before they go into production.
No one has ever REALLY rejected a card, Wright-Herman says.
Her mother once objected to a shot of her younger sister with a birthday cake that read: "Happy birthday to you (you were a mistake), Happy birthday to you (the condom broke), Happy birthday Mary Beth (we can't afford to keep you), Happy birthday to you." But Mary Beth was fine with it, so it stayed.
And Wright-Herman and Mikkelson once axed a card that featured a friend's grandfather.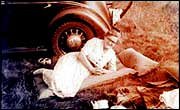 "It was so in-you-face, we nixed it ourselves," Wright-Herman said. "We like to push the envelope, but we sort of have our personal lines we draw."
Their criteria seem to work. MikWright fans flock to signings all over the country.
"We've got them from 18 to 80," Wright-Herman says of the line's devotees.
"I would say, demographically, it's predominantly women, then gay men, and then women with mustaches," Mikkelson says, cackling mischievously.
Those fans wouldn't have a quirky cause to follow if Mikkelson and Wright-Herman had listened to industry skeptics who told them no one would spend $3 on an irregular-sized, homemade-looking card with a glued-on photo.
Boy were they wrong.
Still, the pair continues to marvel that their success sprung from such naive beginnings.
"It wouldn't have been any different than let's say you and a girlfriend sitting at lunch and somebody walks by with outrageous hair or clothes or ugly kids, and you say something to you friend like 'No, she didn't do that to herself' or whatever. It's no different," Mikkelson says. "We're just looking at photos rather than the actual live people. It's safer."
More like this story on Lawrence.com