Sunday, September 21, 2003
Art auctions are great.
They raise money for nonprofit organizations. They put art on people's walls, sometimes at bargain prices. And they bring the community together.
But they can inflict damage as well, says Lawrence artist Diana Dunkley.
"I don't believe in selling work for under retail value because I think it devalues the work. It educates people that it's not worth what we price it at," says Dunkley, a member of the Lawrence Committee for the Advancement of Visual Arts. "When you sell a piece for one-tenth of what the value is, what does that say to the person who bought it at full retail last week? I think it's a destructive image."
That's where the Lawrence Own-Your-Own art show comes in. The exhibition, now in its third year, not only sells local artists' work at retail value but also raises money for Bert Nash Community Mental Health Center.
The juried show moves this year from its former home at the Carnegie building to the Wakarusa Corporate Centre on the southwest corner of 18th Street and Wakarusa Drive. The location's not the only thing different about the 2003 event.
Thirty individuals and businesses have pledged $8,750 in purchase patron awards, up from 22 patrons who pledged $7,250 last year. Last year's patrons ended up spending $14,000, and the show raked in more than $27,000 overall.
Also new will be the People's Choice Award. The $200 prize, sponsored by the Lawrence Art Guild, will be voted on by the public and presented during the Oct. 5 closing celebration.
But the educational component of the show hasn't changed.
"We actively try to bring people in who do not get exposed to the local artwork that's around here," Dunkley says. "We have almost 1,000 professional visual artists in the Lawrence area. With so few venues, there is no way for everyone to show here. It provides an additional venue for the artists. And because we ask our jurors to choose work that provides a diversity, there's something for everybody."
Vital arts community
Indeed, the show features work priced as low as $50 on up to pieces marked at $10,000.
Former Lawrence artist and Journal-World arts editor Carolyn McMaster juried this year's show, whittling submissions by 105 artists down to about 150 works by nearly 70 artists. She says the strength of submissions across media impressed her.
"My assessment is still that Lawrence has an incredibly vital visual arts community," says McMaster, who will be in town later this week to choose Best in Show and other cash awards.
McMaster, who now lives and works as a photographer in San Francisco, loves the financial model of the LOYO show.
"I'm asked to contribute work here every year," she says of San Francisco. "It gets draining to give a piece and then it may or may not go for the price that you would like to sell it for. That's very dispiriting for the artist. I think the way they've set this up supports artists."
Of the $27,000 raised at last year's show, about $5,500 went to Bert Nash, says Pat Roach Smith, the center's community development director. By submitting work for the show, the artists agree to donate 20 percent of their sales to the center.
"Even more importantly, we love a variety of venues to get the word out about the connection between healthy communities and mental health," she says.
"Surrounding yourself with beautiful objects increases good feelings," she continues. "There have actually been studies that show that people who surround themselves with beautiful objects like art and/or create art actually increase their resistance to disease."
Fresh faces
For Lena Echelle, who's participating in the show for the first time, creating art is simply a response to the world around her. Although her Oklahoma State University art degree is in painting and sculpture, she gravitated toward jewelry, mostly out of necessity.
"I took one jewelry class at the university, and then I went to Ecuador for six months," she says. "I just took all my small tools. I ended up making jewelry, and I just kind of stuck with that."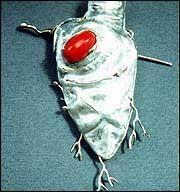 A brooch, pendant and ring she crafted from silver, gold and coral bean were accepted into the LOYO show. In the brooch, "Outgrown Heart," silver seems to pool, still molten, at irregular depths to form a shape that references the human heart. Its tone is organic.
"My inspiration comes mainly from nature, but not directly," Echelle says. "I don't make things that look exactly like natural items. I guess I like to experiment with materials and sort of see what happens with different techniques."
Echelle is excited to be part of the LOYO show.
"I like to display my stuff anywhere I can," she says. "My favorite thing is just to have people find something that they like in my stuff and then have it."