Tuesday, September 23, 2003
The US hasn't seen a rugby game from EA since 2002. It wasn't particularly impressive the first time and the 2004 edition improves very little.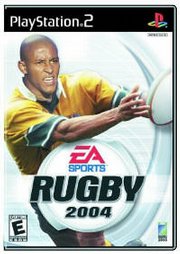 From the initial loading screen to the end of a match, it's blatantly clear that Rugby 2004 is a mere afterthought in EA's line-up; it's a project for the coffee-fetching interns, if you will. Outside of a quick match and tournament mode, there are no extra trimmings that EA fans are accustomed to in their sports games. EA missed the chance to make rugby fun for already disinterested Americans.
Outside of scrumming and line-outs, there is no real tutorial on the rules of rugby so that one may learn. This limits the appeal to pure rugby fans that have a PS2. Even then, they will come away dissatisfied. This year there are 60 teams instead of 20 and over 2000 real rugby players. You can get points a la Madden Cards to trade players if so inclined to stick with it.
The animations are decent by themselves but the transitions from kicking to running are extremely choppy. Add in low polygon character models and pitiful-looking stadium crowds and you have a pretty dismal rugby experience.
The John Inverdale and Gordon Bray commentary is dull and the tone matching is horrendous. Every inch of the game seems unfinished, lacking any polished effort.
Despite the new teams, even hardcore rugby fans will be hard-pressed to find any reason to pick this up.
Graphics: D-
Sound: D
Gameplay: C
Replay: C
Overall: D 62%