Monday, September 29, 2003
Square (now Square-Enix) makes its return to a Nintendo console in a big way with this Final Fantasy strategy/RPG showpiece. It's a polished game that can suck even non-RPG fans in with its chess-like Tactics Ogre elements.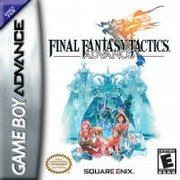 Based in a post-modern Final Fantasy World, you play as Marche. Marche and his friends love the Final Fantasy games. They stumble upon a magic book and are soon scattered among a world likened to a Final Fantasy game.
The first two battles serve as a tutorial for how combat is done. It's performed so easily that you don't realize you've been through a training lesson until the second battle is over. It's in these exercises where you learn the basics of combat, but really nothing of the deeper management of your clan. Luckily, the mission system is balanced so you learn valuable skills along the way for those unfamiliar with the genre. It may take awhile to memorize the somewhat busy menu system, but once you do it's a pure joy to battle.
With each won battle, you earn more money to buy new missions. You will earn new classes with experience points like any RPG and find that there is a deep amount of jobs, tasks and items to be had all varying in difficulty. It is a 30+ hour experience that engages your mind more than any other GBA title to date. If you have cronies that also have the game, you can link up and battle each other.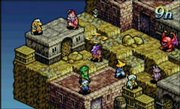 The graphics and sound are another reason for praise. The detail Square squeezed out of each GBA pixel is phenomenal, with smart use of colors and drawing to make the characters and battles truly come alive. The soundtrack rivals next-gen consoles with wonderful string arrangements.
Everything screams high production value and Nintendo fans tentative about the Final Fantasy return should not fear. Rush to your local store and start playing immediately.
Graphics: A
Sound: A
Gameplay: A
Replay: A
Overall: 95% A
More like this story on Lawrence.com