Tuesday, September 30, 2003
It's time once again to pull the dance pads out of the closet and get to steppin' again. DDRMAX2 is finally here and you will actually be thrilled to know there are songs you will actually recognize!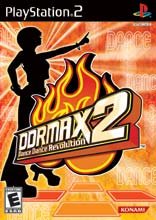 If you've missed the DDR (Dance Dance Revolution) phenomenon, arrows float to the top of the screen and you have to step on the corresponding arrow on a dance pad in time, or you lose points. The result is what humans call "dancing." It looks awkward on the easier levels and impressively cool when an expert plays. You can play with a control pad but why?
Many wondered why they bought DDRMAX for the PS2 when the Playstation version was so similar. DDRMAX featured many remixes of the previous version and slightly better background visuals. DDRMAX2 earns the right to be bought for the new additions to the soundtrack and better presentation.
You still have your workout and edit modes for you carb-haters out there. But as you step the night away there are full motion videos in the background, creating a sense of a high-tech LA club.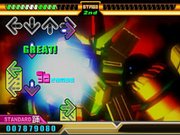 There are so many unlockable songs and also tunes out of the box you are familiar from artists like the Crystal Method, Kylie Minogue and KC & the Sunshine Band. For many, including me, this makes a new purchase warranted at the MSRP of $39.99. For those who don't care about licensed music, it is overall the same 'ol. You will find little value in the upgrade.

Graphics: B
Sound: A
Gameplay: B+
Replay: B+
Overall: 85% B
More like this story on Lawrence.com