Friday will be one of the last times area poetry fans will be able to hear Philip Miller read his work -- at least in Kansas.
The man lauded among writers as a champion of the Kansas City poetry scene is pulling up roots and moving to Pennsylvania with his wife this summer.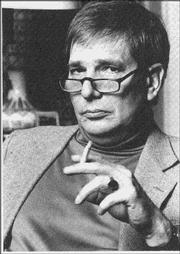 Miller taught creative writing at Kansas City Kansas Community College for nearly 30 years before retiring in 2002 and helped start the Riverfront Reading Series in 1987. He's looking for someone to fill his shoes as director of the series after he gives up the post this summer.
"Phil Miller is someone I've read with and I've admired for many years," says Caryn Mirriam-Goldberg, who is on Friday's bill with Miller for the second installment of the 2004 Lawrence Poetry Series. "He has been just this incredible support in the Kansas City community. He's really elevated the writing community in many ways. He's organized readings for years and years, and he's kind of an unsung hero of our region.
"Plus he's a wonderful poet."
He's also a poet with a strong sense of place who's sure that moving cross-country won't affect his writing much.
"In almost all of my poems, I always have a real strict sense of place, seasons, weather, and it's always a Kansas City location, although I don't draw much attention to that," says Miller, a Kansas City, Kan., native.
Philip Miller :: Kansas City poetCaryn Mirriam-Goldberg :: Lawrence poetSarah Ruhlen :: Lawrence poetJohn Mark Eberhart :: Kansas City Star books editor
"I don't think of myself in any way as a regional writer, but I think coming from the Middle West sort of defines me."
Miller has been writing poetry since he was a teenager, but he didn't get serious about it until he took a creative writing class from Keith Denniston at Emporia State University.
Miller's first three books of poetry -- "Hard Freeze," "From the Temperate Zone" and "Branches Snapping," recently released by Kansas City's Helicon Nine Editions -- deal with relationships, alcohol abuse, memory and mortality.
"Why We Love Our Cats and Dogs," a collection Miller co-authored with Patricia Lawson, will be released soon by Unholy Day Press in Kansas City, Mo.
Miller's poems also have been published in Coal City Review, I-70 Review, Cottonwood, Kansas Quarterly, New Letters and Poetry, among others. He co-edits a magazine called The Same.
He's been familiar with the Lawrence poetry scene for years, and was happy to accept an invitation by Jason Wesco, who organizes the series, to read in it.
Although he admits it might be a radical idea, he believes poetry readings are more important for writers than audiences.
"When you read to an audience, you immediately -- if you are honest with yourself -- will discover any defect that might be there that escaped you," he says.
"There's nothing quite like it, and I think that's why the tradition of readings has stayed in tact for an awfully long time."
But pinpointing what makes a poem successful, he says, is an inexact science.
What he strives for -- and what he hopes to forge during his Friday appearance -- is a connection with the audience.
"A good poem should, in one way or another, engage the reader or an audience, emotionally AND intellectually -- not just one or the other, but both," he says.