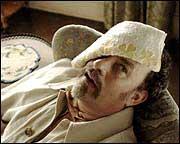 O Brother, what do we have here?
"The Ladykillers" is the latest broad comedy from quirky filmmakers Joel and Ethan Coen. Following "The Big Lebowski," "O Brother, Where Art Thou?", and "Intolerable Cruelty," it's also the fourth comedy in a row from the Coens ("The Man Who Wasn't There" being NOT a comedy) that should have been funnier than it is.
I can hear it now, in every dorm room where these words are being read: "Dude, 'Lebowski' is a classic!"
But does anyone remember what audience reception to that film was like when it was released in theaters? Indifference. It flopped at the box office, and was also ignored by critics. Since being released on home video and shown on cable television, "The Big Lebowski" has become a cult favorite. And I still don't think it's very funny.
"O Brother, Where Art Thou?" is way better known for its monster hit bluegrass soundtrack than it is for being a great movie. And last year's "Intolerable Cruelty" was a throwback comedy that wasn't quite as funny as the movies it celebrated. And here "The Ladykillers" arrives, a remake of the 1955 British comedy originally starring Alec Guinness.
What was once a low-key comedy of errors now has the Coen mark of winking outrageousness all over it. I wonder if they can be construed as satire, since the main roles in "The Ladykillers" are so over-the-top that they detract from what is actually happening at any given moment.
Movie
Ladykillers
***

Tom Hanks and the Coen brothers make a welcome return to pure comedy. This update of the 1955 British caper finds Hanks as a verbose professor whose gang plans to rob a riverboat casino by tunneling in through the cellar of his elderly landlady (Irma P. Hall). Although it's a simple conceit, the oddball touches keep the film afloat.
Tom Hanks is Professor Goldthwait Higginson Dorr, in a performance so incredibly uncontemporary that it must be admired. The tongue-twisting Southern drawl that comes out of his mouth is so distracting that it could only be considered funny if you knew in advance what he was going to say.
The Professor and his caricature-laden motley band of thieves stage one scene after another that seem designed for laughs, but implode under the weight of the weirdness. The story, adapted from William Rose's original screenplay by the Coens themselves, is reduced to a series of hoops the characters must jump through to prove just how strange they are.
As in all the Coen's films, Roger Deakins' cinematography is grand. It's a crime that the camera is not supporting the story, so much as it is distracting. The shots are beautifully framed and photographed. And there are numerous nice touches. Small details foreshadow events to come, and literary references to Edgar Allen Poe illustrate the theives' sins and their undoing.
All of this adds up to a movie that is great to look at and be appreciated at a distance. Hell, as I look back on it now, it seems a lot better than it did while I was actually watching it. The problem is, while "The Ladykillers" was on the screen, I laughed very little!
I agree with the theory that most Coen brothers movies get better when you view them repeatedly. When the picture is understood as a whole, sometimes it can be picked apart more carefully. "The Ladykillers" could certainly be one of those movies. I actually liked "O Brother" and "Intolerable Cruelty" better the second and third times I saw them. "The Big Lebowski" may be a great-looking movie with lots of cameos, but I still don't think it's very funny. And after its first viewing, neither is "The Ladykillers."