Josh Romero sometimes gets teased for the way he got into break dancing.
"I played this video game called 'Bust a Groove' and there was a break dancer on there. The camera would go all the way around him, so you could like look under him to see where his hands were at," Romero said.
"I don't know if anybody else learned that way..."
Romero and the rest of his crew -- a 10-strong posse of break dancers known as the "Buggin' Out" Crew -- aren't usually the main act at local hip-hop shows, but they often become the main attraction. Crowds a hundred-strong circle up to get a glimpse of the crew's gravity-defying dance moves and handstand acrobatics, leaving the stage performers to wonder if they might just be playing second fiddle.
This Saturday night, however, the break dancers will get top billing. The Bulldog B-boy Battle will pit the Buggin' Out crew against crews from as far away as Texas and even Canada. Though the Buggin' Out crew has won competitions in St. Louis, Minnesota and Omaha, the stakes become higher on its home turf.
"It would be nice to win Bulldog Battle, just because it is our hometown, and it'd feel kind of funny to go out to all these other different cities and go win their competitions and not be able to win one in our home town," said Buggin' Out dancer James Christopher Melbourne. "And that happened to us last year -- we lost."
Who let the dogs out
Since The Bulldog Battle debuted in 2002 (this will be the forth), the event has attracted a reputation as one of the Midwest's premier B-boy competitions. Crews from across the country now clear their calendars for a trip to Lawrence every April and September, where they can count on performing in front of 500-plus audiences.
Promoter Edwin Morales of .downplay productions has been the driving force behind the event, acting as manager for the Buggin' Out crew and inviting B-boy crews from across the country to attend.
Past Event
Saturday, April 10, 2004, 9:30 p.m.
Granada, 1020 Mass., Lawrence
All ages / $10
"I started thinking about doing events that are just strictly for the B-boys instead of the B-boys being in the corner break dancing on a floor that has beer all over it," Morales said.
"We have more access to information these days, and so people are learning the history of break dancing ... it's become more of a spread out thing instead of just being a subculture."
The Bulldog battles have helped raise the local profile of the Buggin' Out crew and B-boy culture, Melbourne said.
"The dance scene out here is small; there's not that many people doing it," he said. "What the Bulldog Battle provided was an outlet for the kids that were part of the dance scene in Lawrence and Kansas City, and a chance to get some exposure."
The battle is divided into three parts -- 1-on-1, 2-on-2 and crew-on-crew -- and cash prizes are awarded to the respective winners. Three out-of-town judges -- Paulskee (LA) and Boy and Marlin (Houston) -- will determine winners based on footwork, showmanship and cohesiveness with the beat.
"The whole B-boy competition format is something that's just starting to be explored," Melbourne said. "Most judges do it pretty intuitively -- whoever they like the most."
Bust a move
Break dancing originated in the Bronx in the '70s alongside the birth of hip-hop, borrowing its name from on the funky "breaks" that street dancers grooved on. The term came to encapsulate a wide variety of styles that were developing simultaneously, such as the "poppers" on the West Coast funk scene or the "B-boys" in New York.
Thanks to a proliferation of break-dancing related websites and DVDs, the dance form has become more accessible than ever to people who want to get involved.
"(It used to be) the new moves that people were creating were isolated to the people who immediately saw them," Melbourne said. "Now, when an event happens, video of it will pop up on the internet the next day."
Melbourne became interested in break dancing in high school, when he frequented dance parties at clubs like Roadhouse Ruby's in KC.
"I started dancing just to get attention -- for all the wrong reasons," he said. "For me, (B-boying) was the personification of cool ... I wanted to be a part of something cool so I started trying to learn."
Since then, however, Melbourne said he's become dedicated to the dance form at a much deeper level.
"I honestly view dancing as a viable art form and I see it as an honest opportunity to express myself creatively," he said. "I'm not going to get rich off of this and it's not going to matter if I win a bunch of these competitions and I'm like a little mini-celebrity in the scene. That's fun, but what's going to be longer lasting for me is that I have fun with the people that I'm dancing with."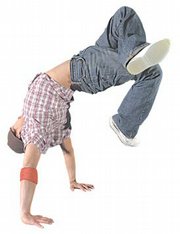 Gym bugs
The Buggin' Out crew practices two to three times a week at the Lawrence Gymnastics Center, where it has earned the respect of open-gym mates like Cody Szuwalski, who practices the Chinese martial art of Wushu.
"They can stay upside down longer than I can walk," said Szuwalski, who often travels with the Buggin' Out crew to out-of-state competitions. "When they're not doing something else, they're like, 'I'm going to do handstands for half-an-hour.'"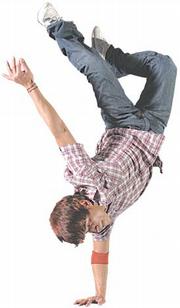 Onlookers at the gym might be surprised by the group's music selections, which run the gamut from rock to hip-hop to pop.
"We've danced on everything from hardcore rap to The Cardigans," Romero said. "At battles they play the same music over and over again; I'm kind of tired of it."
Since half of the Buggin' Out crew lives out of town (the group has members in KC, Wichita, Garden City and Coffeyville), the Bulldog Battle also presents a chance to get together and show off new moves.
"Since we don't practice with each other that much, we all developed our own styles," Romero said. "You don't see that very much, especially in crews. Usually a crew all kind of looks the same."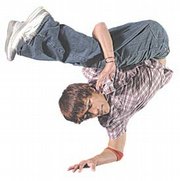 The Bulldog Battle's friendly atmosphere is unique in a scene where egos sometimes spoil the fun, Romero said.
"When you get into bigger events -- like the real big ones out-of-state -- there's a lot of tension in the air," Romero said. "A lot of times there will be fights ... Usually the only people that want to fight are the people that aren't better than you and they know they aren't better than you."
More like this story on Lawrence.com