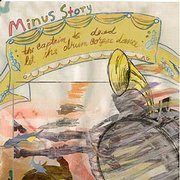 Forget about recording studios: slay those dinosaurs of the music industry like the soul-sucking vampires they are.
At least that's the impression Jordan Geiger and company leave after a listen to Minus Story's "The Captain is Dead, Let the Drum Corpse Dance." The home-recorded eight-song album gives the finger to prim-and-proper production and instead cultivates an affecting pastiche of sound that recalls the most intimate indie rock records of the last decade, such as Jeremy Enigk's "Return of the Frog Queen" or Neutral Milk Hotel's "In the Aeroplane Over the Sea."
From the downbeat, Minus Story crafts an alternate universe of joyous brick-a-brack noise, all held together by the daring song craft of Geiger, who left his post playing keys for the Appleseed Cast to focus on this project. Geiger's fragile voice at times recalls Enigk (Sunny Day Real Estate) or Doug Martsch (Built to Spill), and thrives on multiple overdubs and thick harmonies.
Everything musically about "Captain..." seems a little odd. The drum kicks rarely fall where you expect them too (partly due to the fact that the group frequently uses two drummers), and the instrumentation reinvents itself with every passing song, verse or even measure. A pocket symphony of instruments -- drum machines, chimes, bells, detuned acoustic guitars, horns -- collide with tabletop percussion elements and wily tape effects to create dense yet elegant soundscapes.
None of which would matter of course, if Minus Story didn't know how to put the songs together so well. Geiger proves himself a daring composer, spending an equal amount of time on the guitar and the keys. Songs like "Won't Be Fooled Again" and "Gravity Pulls" introduce a central theme and drive it as far as it will go, adding and subtracting instruments until the whole song begins to sound like a marvelous little puzzle.
The group seems to have spent an equal amount of time mixing the album, as each sound element is carefully placed in the "wall of crap" (their term, not mine) so as to beg for attentive headphone listening.
Too often home-recordings feature too much experimentation and not enough foundation. Minus Story's "Captain..." captures the best of both worlds and delivers one of the most enduring records of the year, local or otherwise.