Even though motocross isn't the most popular sport, the following it has is loyal, and the few games that come out of that camp tend to satisfy outside of its core audience. We know MX Unleashed was a winner, but how does MTX Mototrax stack up?
As in real motocross, learning to use your clutch correctly in sharp turns is the ultimate key to improving your runs around the tracks. Also, learning how much to preload your suspension is the key to getting the right amount of air to pull of a few of the over 100 tricks available. Here in Mototrax, you have a variety of freestyle, motocross (jump-heavy) and supercross (turn-heavy) to choose from.
In supercross and motocross modes, you do your best to outrun seven other racers while moving up the ladder to gain more sponsorships. Each mode has eight different tracks to traverse and is pretty straightforward. The freestyle mode puts you in an arena with plenty of jumps to wow the world with your trick skills. Even more, in free ride mode you may take these skills to a sprawling landscape, jumping off of everyday objects in a city scenario. You also have a set of challenges to complete to gain points to unlock the next map.
The pace of the bike is pretty good. It's fast and preloading is intuitive. However, it doesn't give the real sense of weight that MX Unleashed had. That could be due to the unnatural nature of collisions. When you fall off your bike, your animation looks a bit clunky. It could also be due to the stiff turning and overall navigation controls. It's not bad, but it doesn't quite seem like you have total command of your bike. Still, what's here is more fast than furious, and provides a lot of fun, especially when racing online.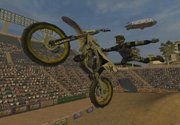 The graphics are clean and detailed and provide great bike and character models. The terrain and free ride level design are fairly inspired as well. The sound is what you expect out of this genre- rock and loud, humming bikes. You get what you expect.
I like MTX Mototrax quite a bit, although for pure fun factor and overall polish, I believe MX Unleashed is still king this year.
Graphics: A-
Sound: B
First Play: B-
Last Play: B
Gameplay: B+
Overall: 86% B