Jackie Davis remembers well the first performance at the Lied Center.
It was Sept. 28, 1993, and "The Secret Garden" was touring the country after a bang-up opening on Broadway three years earlier.
Not that anyone was worried that the two new midnight blue velour curtains or the intricate 44-line rigging system that held everything together in the brand new state-of-the-art facility would malfunction.
But this was a complex production -- with elaborate scene changes and a rotating set piece -- and nerves were high.
Then came a giant sigh of relief.
"The first night when I saw the show I fully realized the potential of what Chris Hixson had done for us," Davis, then-director of the $14.3 million performing arts venue, says of the Lied Foundation's trustee.
"I could see that we could do just about anything on that stage, and it was thrilling to begin to imagine the depth and the breadth of the kinds of performances that could be a part of Lawrence, Kansas.
"The sky was the limit."
Ten seasons later, the Lied Center is still synonymous with top-notch music, theater and dance, drawing the best in the business from around the globe. Case in point: world-renowned cellist Yo-Yo Ma and the Silk Road Ensemble will perform Saturday, the night the Lied Center celebrates its 10th anniversary.
No more apologies
But it's not just the birthday of a 10-year-old building that revelers will be marking. It's also the 100th anniversary of Kansas University's Concert Series.
KU fine arts dean Charles Skilton planted a seed in 1903 when he invited the Chicago Symphony Orchestra to play at the school's first May Music Festival. The annual festival evolved into the Concert Course, and fine arts dean Donald Swarthout started the Swarthout Chamber Music Series in 1947.
From 1927 until 1991 -- the year Hoch Auditorium burned to the ground after a lightning strike -- many of the series' performances took place in the venerable building, which "had its charm in the sort of way that a building with so much historical significance does, but it did not lend itself to presenting the arts at their best," says Karen Christilles, associate director of the Lied Center.
Numbers and expertsThe Lied Center opened in the fall of 1993 with:¢ 2,024 seats upholstered in midnight blue velour, all within 100 feet of the stage.¢ Two grand drapes in midnight blue velour, measuring 31 feet high by 64 feet wide when hung and pleated.¢ A 44-line rigging system able to support more than a ton of curtains, lighting and scenery.¢ When fully extended, a 28-foot-tall, 56-foot wide proscenium.¢ A stage that, including wing space, measures 119 feet, 9 inches wide and 48 feet, 8 inches deep.¢ Four private dressing rooms.¢ Three chorus dressing rooms.¢ A warm-up room stocked with a Steinway piano.¢ A 1,200-square-foot dance studio.Architectural firm: Henningson, Durham and Richardson, of Omaha, Neb.Acoustical consulting firm: Kirkegaard and Associates, of Downers Grove, Ill.Theater consulting firm: Jones and Phillips Associates, of Lafayette, Ind.
As early as the 1960s, university officials began dreaming of a multipurpose performing arts facility -- one that would do justice to the sounds being produced by visiting artists and provide adequate backstage facilities.
Davis, who took over the Concert Series in 1980, had been embarrassed for years by the lack of amenities for performers. She often hung a sheet over a pipe in Hoch's basement to distinguish men's and women's dressing rooms.
"I'm really very excited about the opening, but the first thing that I think about is that I no longer have to apologize to every artist," Davis told the Journal-World in 1993.
All that ended in 1988, when Hixson and the Lied Foundation donated $10 million toward the building. A 20-acre site west of 15th and Iowa was selected, and a groundbreaking ceremony started the process in 1990.
A place in her heart
Expectations were high.
And it's no exaggeration to say that some people's lives revolved around the Lied Center.
Take Bernie and Barbara Nordling. The longtime Hugoton couple who attended KU in the 1950s maintained their ties with the university by serving on the fine arts board. When it was time to retire, they chose Lawrence.
The Lied Center was the deciding factor.
"I always say I had a hole as big around as the sky that I needed filled with cultural things after living in southwest Kansas for 50 years," Barbara says.
The Nordlings opened their home the weekend the Lied Center opened its doors.
"I remember it so well because we were all dressed up in black tie and ... we were going to celebrate with wine and had no wine opener because we had a house we were still furnishing," Barbara recalls.
As a member of the fine arts board and someone who helped raise additional funds to build the Lied Center, Barbara went on many tours of the building before it was complete. Although it always seemed to be rainy and muddy, she says, the previews were thrilling.
"What I remember most was being up on the stage when there was no roof yet, but the stage was done and looking out when everything was bare and thinking what a fabulous human being it would take to entertain all by yourself in that vast space," she says.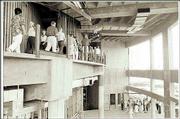 Truly memorable moments
On opening night, the public walked into a 2,024-seat performance hall with four private dressing rooms, several chorus dressing rooms, a dance studio and a warm-up room.
Eleven thousand five hundred people saw "The Secret Garden" during its eight-performance run.
Tim Van Leer, then director of the Mahaffey Theater in St. Petersburg, Fla., was among them. He became director of the Lied Center in 2001, when Davis departed to take a job directing the New York Public Library for the Performing Arts at Lincoln Center.
"I was very impressed," Van Leer says. "There was a certain electricity in the building that you could really feel, and I experienced something that I think are the kinds of things that we hope people experience from time to time ... and those are those moments that are truly memorable.
"The performance was exquisite. You would not have thought that you were in a brand new building as much as in a building that had been there a while and had gone through its shake down."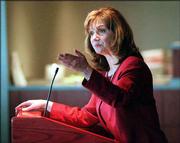 The center recruited 350 volunteer ushers and trained them to work the eight "Secret Garden" performances. Volunteers continue to play a vital role at the theater. Lost patrons need only look for an usher's telltale white shirt and red tie for directions to their seats.
Vern and Marilyn Brobst have been trading their time for free tickets to some of the hottest shows in town since about 1997. Vern's favorites are the Broadway shows.
"I think for the community the Lied Center is a tremendous facility and it allows a venue for bringing in some really nice shows that you otherwise wouldn't have an opportunity to see," he says. "It's been nice, and we've enjoyed it."
Community connections
Davis had created the New Directions Series in 1987. Since the Lied Center opened, the Broadway & Beyond, Family and World Series have been added.
And the Lied Center has extended its reach miles outside its doors with its statewide residency program, which last year sent classical guitarist Robert Bluestone to two western Kansas communities.
At the local level, the center initiated the Civic Dialogue Project with Haskell Indian Nations University to increase communication between the native and non-native communities in Lawrence. And area school children have been exposed to the arts early through Adventures in Imagination, a partnership between the center, U.S. Bank and Lawrence Public Schools.
Margie Coggins, a librarian at Sunflower School who was on the Adventures board for 10 years, recalls taking students to see a black light stage version of the children's book "The Very Hungry Caterpillar."
"They're just in awe that a story can be retold in a different way," she says. "They are just bubbling about some of the things they see."
'First-rate' center
The same way Christilles raves about some of the acts she's seen between her days as a KU graduate student and now.
"The work that was brought in was just absolutely phenomenal," she says, noting performances by violinist Isaac Stern and modern composer Philip Glass. When she returned to Lawrence in 1994, she "could not believe that this gorgeous facility had seemingly just sprung out of the prairie."
Countless top-notch acts have performed in what began 100 years ago as the May Music Festival and continues today inside a treasured building on KU's west campus.
Highlights include: cellist Pabol Casals; pianists Vladimir Horowitz and Sergei Rachmaninoff; trumpet player Wynton Marsalis; contralto Marian Anderson; soprano Leontyne Price; the Trapp Family Singers; ballad singer Burl Ives; violinist Itzhak Perlman; and The Martha Graham Dance Company, the Joffrey Ballet and Twyla Tharp Dance.
Now that she lives in New York -- home to some of the finest arts institutions in the world -- Davis still holds the Lied Center in high regard.
"I really loved everything that we did, and I'm very impressed with what's going on there now," she says. "The staff is doing a great job, Tim is terrific and they're making the place sing and dance. It's a first-rate performing arts center."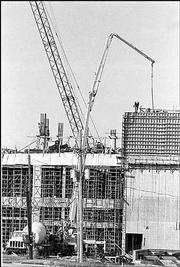 ---
1903 Kansas University Concert Series inaugural season, organized by fine arts dean Charles Skilton. On the program are Mary Wood Chase, piano; Ovid Musin Concert Company; Orpheus Company, violin and piano; Chicago Symphony Orchestra; and The Haskell Indian Band.1947 Fine arts dean Donald Swarthout creates Chamber Music Series. First year includes John Jacob Niles, ballad singer and dulcimer; Walden String Quartet; Roth String Quartet; and the Albeneri Trio1980 Swarthout Society established1987 Jackie Davis creates New Directions Series. Inaugural season features Alchemedians, Koyaanisqatsi and Nexus1988 The Lied Foundation commits $10 million toward a new multipurpose performing arts center at KU1990 Groundbreaking ceremony for the Lied Center1991 Hoch Auditorium is struck by lightning and burns to the ground, causing performances to be held in alternative venues in Lawrence and Topeka until the Lied Center can be completed1991 Partners in Education Program of the Kennedy Center founded1993 Lied Center's grand opening, featuring eight performances of the Broadway musical "The Secret Garden"1993 Swarthout Society renamed Friends of the Lied1994 Broadway & Beyond Series created. First year features "Evita," "Oliver!" and "Cats"1996 Lied Family Series created. First season includes Seattle Mime Theatre, "Sleeping Beauty on Ice," Theâtre Sans Fil1998 First statewide residency features Culture Clash in Dodge City1999 Lied Center cited as one of the 10 most influential university presenters in the United States by International Arts Manager magazine2000 World Series created. First season features Kwaidan: Three Japanese Ghost Stories, Cloud Gate Dance Theatre, Kodo Drummers and Drak Puppet Theatre2000 Lied Center receives Lila Wallace/Readers Digest grant for the community-wide "JazzTrain" project2001 Lied Center launches Civic Dialogue Project with Haskell Indian Nations University2003 Lied Center is selected for inclusion in "Acts of Achievement: The Role of Performing Arts Center in Education," a publication by The Dana Foundation, Association of Performing Arts Presenters and the John F. Kennedy Center for the Performing Arts2004 Lied Center has new logo designed for its 10th anniversary