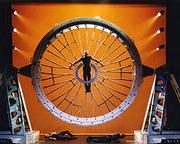 American Indians make fun of people who hang dream catchers from their rearview mirrors.
After all, legend tells us the hole in the center of a dream catcher web allows good dreams to pass through to sleepers, while the web itself traps bad dreams until they disappear at sunrise.
So dream catchers belong in the bedroom, silly.
But Jacques Heim, founder and artistic director of Diavolo Dance Theatre, envisioned a new home for the Native symbol: the stage. In his mind, it became a larger-than-life object, more likely to crush a car than festoon its interior. Large enough to ensnare not just dreams, but dreamers, too.
In "DreamCatcher" -- a new work co-commissioned by the Lied Center, where Diavolo will perform Friday evening -- nine dancers interact with a dream catcher that towers 18 feet above the stage. The kinetically powered set piece spins and rotates, attracting, repelling, dangling and enfolding the dancers.
Past Event
Friday, April 16, 2004, 7:30 p.m.
Lied Center, 1600 Stewart Drive, KU campus, Lawrence
All ages
The hour-long dance, performed with no safety harnesses, presents technical challenges.
"Once the set starts rotating, you can not be in the wrong place at the wrong time because there is no forgiveness with that metal set," said Meegan Godfrey, the company's associate artistic director. She was speaking from a tour stop in Green Bay, Wis.
"You can't change even an inch of your choreography because somebody else is depending on the speed."
Play first, work later
The version of "DreamCatcher" the Lied Center audience will see Friday is actually a second take on Heim's vision. The first incarnation premiered last fall in Long Beach, Calif., as more of a theatrical stage number, with dancers singing and playing instruments. It was a good show, Godfrey said, but it didn't exactly fit Diavolo's M.O. of letting set pieces guide dancers' movements.
So Godfrey went back to the drawing board, scrapping all but eight minutes of the original choreography and reworking the piece at Heim's request while he was in Montreal, choreographing the newest Cirque du Soleil show. In fact, Heim will be seeing the revamped "DreamCatcher" for the first time when he attends the Lawrence show.
Godfrey said the piece tells a love story of sorts, exploring relationships between men and women. It's been described by the company as "a leap of faith through a web of dreams." Nathan Wang composed the score, which Godfrey said transitioned from classical to Gregorian chant to industrial to upbeat.
"He composes for film scores, so it's a very full, emotion-driven kind of music, and it was the last step in the process," she said. "That's always the format for Diavolo is that the set piece comes first. We play on it. We do what the set tells us to do because it DOES command how you move. ... And then the music is last."
'No room for divas'
The formula has garnered international critical acclaim for the Los Angeles-based company, founded by Heim in 1992. The company was so popular with Lied Center patrons when it performed there in 2000 that Lied officials invited the troupe back this year.
Heim maintains a troupe of dancers, gymnasts, rock climbers and actors whose onstage acrobatics have been compared to the Cirque du Soleil style.
Heim's interest in creating works in which dancers interact with objects is what convinced Godfrey to stick with the company after answering an ad in the paper in 1996.
"I walked into their space and they had doors and benches and a cage -- all these things to play on. I thought, 'This is the place for me,'" she recalled. "Jacque never calls himself a choreographer because he doesn't really choreograph. He sits back and says, 'Play.' We get to play all day. We just pull out what worked and didn't work.
"We're a bunch of big kids."
A sign on the studio's refrigerator reads "Do one thing every day that scares you," Godfrey said.
That's the kind of attitude it takes to be part of a company that dances 18 feet in the air with no safety net.
"The group is really tight, and you can see that from the audience," said Godfrey, who became associate artistic director in 2002. "They're looking after each other and taking care of each other and dancing together. It truly is ensemble work just because of the trust factor and physicality required.
"There's no room for divas in Diavolo."
More like this story on Lawrence.com