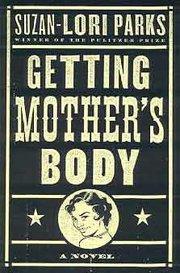 Suzan-Lori Parks has been busy the last few years. She won the Pulitzer Prize in 2002 for her play "Topdog/Underdog." In 2001 she was awarded the prestigious MacArthur Foundation Fellowship, commonly known as the "genius grant." She is working on a musical for Disney, and Oprah recently asked her to write an adaptation of Toni Morrison's "Paradise."
Naturally, I was a bit intimidated when I picked up her freshman novel.
However, while Parks' resume is certainly daunting, her first novel is anything but. Instead, "Getting Mother's Body" (Random House, $23.95) is accessible, witty and wonderful.
"Getting Mother's Body" is a book about just that. The year is 1963 and Willa Mae Beede, dead for several years, is rumored to have been buried with her valuable jewelry. When her daughter Billy needs some extra cash to remedy a sticky situation, she decides to dig up her mother's grave and cash in on the loot. Along the way she enlists the help of her aunt, uncle, former lesbian caretaker and distant family relations, all hoping to get their piece of the proverbial pie.
The novel is set up by having each character narrate chapters from his or her own vantage point. This technique has been employed by James Joyce and William Faulkner, but Parks makes it unique by giving all characters the opportunity to speak, even those who only play a minor role in the story.
This method, combined with a vernacular writing style and slapstick situations makes for a peppery, engrossing story.
Past Event
Tuesday, April 27, 2004, 7 p.m.
Rainy Day Books, 2706 W. 53rd St., Fairway, KS
All ages
Parks was raised in a military family, constantly moving from place to place, and her worldly experiences are a large part of her success as a writer. She manages to draw from her African-American predecessors like Alice Walker and Zora Neale Hurston, but finds her own eclectic voice.
Crude and sometimes shocking, Parks crosses P.C. boundaries but does not compromise her heartfelt characters.
The novel begins with Billy Beede searching for her undies in the back of a Ford Galaxie. The year is 1968 and Billy is a 16-year-old African-American in rural Texas. She is single, poor and pregnant. The father of Billy's baby is Clifton Snipes, a coffin designer who is literally digging Billy's grave. Heavy-handed irony is typical for Parks, who has the wit to pull it off.
The true beauty of Parks' writing lies in her characters. Billy is typical of the cast, because although painfully flawed, she is strong, endearing and funny. Other standouts include one-legged Aunt June, who never gives up on her husband despite his failure to give her the baby and the church he promised. Townie Laz Jackson is another. Next in line in a mortuary dynasty, Laz wants badly to marry Billy, but he doesn't have a shot.
Her most poignant character is Dill Smiles, a black woman passing as a man. Lean and rough, Dill falls in love with Willa Mae Beede and has a sexual relationship with her for years without either of the women ever acknowledging Dill's true sexuality. Dill's character is an example of Parks' distinctive voice. Although Walker and Hurston often allude to homosexuality and transexuality in their works, Parks fleshes out these ideas completely.
It's hard to pick a favorite among Parks' cast of characters. As individuals, all the men and women explode stereotypes of the traditional southern African-American. These saucy characters combined with a wry plot ensure that "Getting Mother's Body" will leave an indelible impression on readers. If Parks continues to write novels of this caliber, she will surely earn a place among her trailblazing predecessors.