When you think of a street ball video game, you immediately think of EA's NBA Street. With Ballers on the horizon, one would be quick to blow it off as a knockoff of Street. But take the street away and Ballers is a completely different game, hitting on a fun factor EA's offering never did.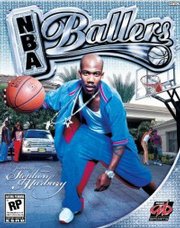 You have 60 NBA stars to choose from including 24 legends. Most of these players have to be unlocked, which may prove frustrating at first.
Ballers is a one on one basketball game. That's right, it's all about you. In the NBA Jams and NBA Streets of the world you have teammates to pass to so you don't have to be as smart in the man to man situations. Even though here you can pass to a friend on the sideline, most of your success depends on reading the reaction of your opponent and using the right stylistic moves to pass him for a dunk or flashy shot. Hesitations, jukes, speed, fakes and moves not allowed in a regulation game all come into play here. On order to master the game, you have to be proficient with all of your player's moves, kind of like a fighting game. It is in this reality that NBA Ballers, despite its stylistic nature, is an impressively technical outing rather than a run and gun arcade spree.
There are certain "Act a Fool" moves you can pull of that completely embarrass your opponent. You can bounce the ball off their head, between their legs or other hilarious iterations to beef up your style points. Also, when you connect various style moves to fill up your "jackpot," you can perform a Juice move that displays a menacing dunk that ends the game immediately no matter what the score is. The idea here is that the opponent is so embarrassed and the crowd is in such awe that there is no reason to play anymore. These moves are fairly difficult to perform as they should be.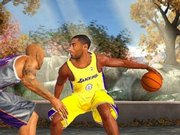 Sure, you can compete in quick matches or with friends (online for PS2), but the satisfaction is working your way from "rags to riches" in the main story mode. Here you can create your own baller, sculpting the facial and body features while using a set amount of skill points to distribute among abilities such as speed, lay-ups, dunking etc. The more you win, the richer you get and the more skill points you can use to increase your abilities. You also can use points to unlock players or buy cars and other items for your crib.
The character models are amazing. I have never seen so many accurate renders of basketball players before. Midway pulled off some stunning graphical wonders here. Gone is the standard of "Yeah that kinda looks like him" and in is the "Woah, that IS him" standard.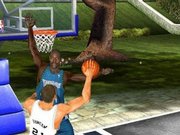 If there is one thing I like about smaller game companies, it's that they don't have the capital to license big name musical artists for the soundtrack. This way, I can get to hear some fresh unknowns. Ballers delivers just that. Fresh hip-hop unheard-ofs
Many games come and go for a reviewer, disappearing into the abyss of the forgotten gaming realm. NBA Ballers will not be one of them. Even though its robust amount of stars take awhile to unlock, it's one of those games you will make time for and won't be heading to the used game store anytime soon.
Graphics: A
Sound: B+
First Play: A-
Last Play: A-
Gameplay: A-
Overall: 90% A-