Masani Azura doesn't want to hear about how hard it is to get a good belly dancing gig in this town. She's been trying for years.
"A lot people think it's stripping," said Azura, a teacher and performer of the dance form. "If one person is offended by it, that's all it takes."
Azura's most recent rejection came at the hands of the Nelson-Atkins Museum of Art in Kansas City, which turned down her request to perform in conjunction with an Egyptian Art Exhibit.
"They said, 'No way, there will be no belly dancing," Masani said. "I don't even try to explain myself anymore -- they'll just have to miss out."
Dealing with misinterpretations of belly dancing has become a dependable nuisance for Azura, a Lawrence-based dancer who travels the country performing and teaching workshops at conferences. Since she started dancing 30 years ago (much to the chagrin of her church), Azura has risen to the top of her class in a field of dance that still struggles to earn the respect afforded to its more opera-hall friendly peer forms, like ballet.
Past Event
Saturday, May 1, 2004, 9:30 a.m. to noon
Ecumenical Campus Ministries, 1204 Oread Ave., Lawrence
All ages / $25
Azura will have her revenge this Saturday when she and more than a dozen other belly dancers from across the country perform "Cirque de Beledi: Yalla!" at the Ecumenical Christian Ministries Building, 1204 Oread. The three-hour performance will showcase a wide variety of belly dance styles - Egyptian Cabaret, sword, veil, tambourine, cane and gypsy - set to the percussive sounds of Middle Eastern music.
Azura modeled the show after "Cirque de Soleil," the eccentric traveling circus that captivated audiences with its daring human contortions and flamboyant costuming.
Though "Cirque de Beledi" may not match the daredevil acrobatics of 'Soleil,' co-organizer Jemira Ali says it will have plenty of imagination.
"It's an experiment to expand the dancers' creativity," said Ali, a dancer of 17 years who specializes in swords and circle veils. "Everybody's keeping (their act) under wraps until the day of the show."
Also included among the performers will be a number of students who take lessons from Masani and Ali every other Sunday at the ECM.
"One of the challenges in teaching students, especially the women, is to stop them from closing down and to open up and be proud of their carriage," Azura said. "This is being prideful, being proud of who you are as a woman and being visible."
Though all but one of her students are female, Azura says men dancers are just as respected in the field.
"Men are the best teachers that I've had," she said. "They do the best shimmies and butt/belly oscillations because they have longer torsos."
The show should also attract newer belly dancing enthusiasts like Angie Stewart, a 24-year-old who manages The Casbah. Stewart said began taking lessons simply because she was bored and wanted to try something new.
"The thing that's great about it is there's women of different sizes and different ages that do it," she said. "You become more confident with your body ... no one's embarrassed about anything or self-conscious."
When it comes to performing, Ali said the hardest part was overcoming the pre-show jitters.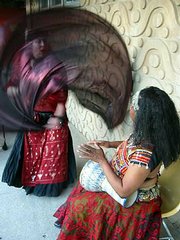 "Once you get there and you hear the music ... it's exhilarating." she said. "At some point, your brain says, 'Who cares -- just dance.'"