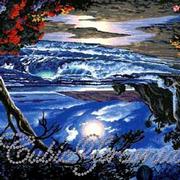 One of Lawrence's most intriguing new bands is back at it with a four-song, 21 minute EP titled "Cubic Zirconia." The fascinating fivesome crafts dark and melodic art punk in the vein of Sonic Youth or Blonde Redhead, singing and screaming by turns and dwelling in feedback-driven explosions of noise.
Ad Astra builds on the adventurous sound explored on its debut three-song EP "An Introduction To" (2003). The band leaves much (but not all) of its abrasiveness behind in favor of a more tuneful and mature approach. Female vocalist Julie Noyce plays a more prominent role while lead vocalist Mike Tuley explores a softer approach to singing.
Though "An Introduction To" was outstanding for a home recording, "Cubic Zirconia" benefits from a professional job courtesy of Eudora's Black Lodge Studios. The recording leaves nothing to be desired sonically, with huge drum sounds and plenty of studio sheen. This is an immense benefit to Ad Astra's dense sound, helping sort out layers of guitar effects, keyboards and auxiliary percussion.
Album Mp3s

Cubic Zirconia EP
Though Ad Astra's challenging arrangements can be difficult to absorb on first listen, they reward repeated listening and make for a rich headphone experience. With each successive listen, the disparate parts seem to fit together more and more. After half a dozen listens, you'll wonder if this isn't in fact pop music at its core.
Probably the biggest improvement on "An Introduction to" is the copious use of a real piano, which sounds downright haunting on most tracks. Drummer Kurt Lane also turns in some riveting performances, augmented by a percussive potpourri of shakers, chimes and handclaps.
Though there's only four songs on "Cubic Zirconia," there's a wealth of creativity within each track. If this band ever puts out a full-length, it'll feel like a boxed set.