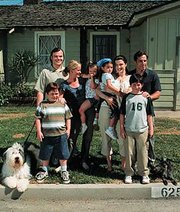 The risk of making a movie whose theme would fall apart were it not for fecal matter is that people may be compelled to draw comparisons to the very poop, to put it nicely, that drives the plot.
With all the dog dung in "Envy," it's almost too easy to generalize that it stinks. But it does, unfortunately, despite the big-name actors in its cast.
Tim Dingman (Ben Stiller) and Nick Vanderpark (Jack Black) are best friends who live across the street from each other with their respective wives and two children in generic suburbia. They drive to the sandpaper factory, where they work and toil to rise to the middle-management ranks so they can afford to build kidney bean-shaped swimming pools in their small back yards. Video cameras in hand, they attend and videotape their kids' T-ball games and school plays together.
Painting the lives of main characters as tedious and predictable normally would set the stage for excitement, or at least a strong departure from dullness. So much for cinematic juxtaposition, because even after Nick comes up with a successful get-rich-quick scheme - Vapoorizer, a spray that makes pet poop evaporate into thin air - the anticipated comedic thrills are few.
Movie
Envy
* 1/2

Not as bad as you've heard, but nowhere near as good as it should have been, "Envy" features Ben Stiller and Jack Black trying gamely to make something funny. Director Barry Levinson tries to manufacture anarchic spirit, and Christopher Walken has another embarrassingly out-of-place supporting role. Despite a flat script, Stiller and Black have some giggle-worthy moments together, but they are few and far between. <ul><li><a href="http://blogs.lawrence.com/behead/entries/671/">Blog on 'Envy'</a></li></ul>
Because Tim had pooh-poohed Nick's seemingly harebrained idea and opted out of investing in it, he lost out on the riches that befell the Vapoorizer inventor. But even with his newfound wealth, Nick does not want to move away from his best friend, and instead he builds a huge new house, complete with lavish finishes and luxurious amenities. Tim continues to go to work, and his wife, who had wanted to be part of Nick's scheme, resents him for missing out on the opportunity of his life.
Tim covets his neighbors' stuff, which includes a Lamborghini, a horse, a bowling alley, a merry-go-round, a vineyard, an archery range, designer clothes and a butler. His envy causes him to get fired from his job. To deal with it, he uncharacteristically goes to drink at a bar, where he meets a weird vagabond, J-Man (Christopher Walken), who plants an idea in Tim's head that causes him to fire an arrow that accidentally hits Nick's beloved white horse. As if the film wasn't dragging enough already, the fiasco with the horse sends it into a downward spiral of annoying dialogue and even more annoying situations peppered by only a few laughs.
For an alleged comedy with such star power, "Envy" reeks enough to wish there was a vaporizer that would make it magically disappear.
More like this story on Lawrence.com