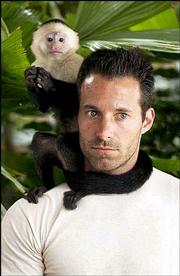 New York — Snakes don't scare Johnny Messner.
Does anything scare the actor?
"Impotence," Messner says. "That and spiders. I hate spiders."
Fortunately, for the 34-year-old star of "Anacondas: The Hunt for the Blood Orchid," snakes were the cinematic adversary while shooting on location in Fiji.
Actually, no REAL snakes were used in the movie - they're almost all digitally created in post-production. And they would have to be, since there are no giant anacondas in Fiji - or in Borneo where the horror-adventure film is set.
"It's not the fact that snakes are in Borneo or China or America," says Messner during a recent roundtable interview in Manhattan. "If you start to think about that, then you're not involved in the movie.
"This is not 'The English Patient.' What it's about is to grab some popcorn and enjoy yourself. That's all it is."
Despite the inaccuracies, this unashamedly entertaining romp still makes more sense than the original "Anaconda." But when that 1997 effort performed respectably at the box office (with huge numbers overseas), a sequel became an inevitability.
"Anacondas" gives the tattooed, muscular Messner his first crack at a leading role. The last four years have seen him play supporting parts in movies such as "Tears of the Sun," "The Whole Ten Yards" and "The Sweetest Thing."
With this new top billing, Messner is hoping to realize one of his primary goals.
"I'm trying to bring the real man back to Hollywood," he says. "Steve McQueen - that whole thing. There hasn't been that for a long time."
Jon Niccum talks with Johnny Messner
Just as McQueen made his leading debut in a horror film - 1958's "The Blob" - Messner is taking the B-movie route. But it is Tinseltown's current crop of A-listers that has the actor really annoyed.
"Orlando Bloom is a hermaphrodite," he vents about the "Troy" star.
"I don't want to be prettier than the woman I'm walking with. I want people to look at me and say, 'Now there's a guy that can go under a fucking car and fix the transmission, and ride a horse, and take out a motorcycle. And when you're with him, you feel like he's a man.' Right now what I feel like in Hollywood is they're so pretty and dainty and metro that it's repulsive to me."
Messner points to the fact that reigning "real men" such as Harrison Ford and Sean Connery aren't being equaled by the younger generation of actors. Aside from a few notables such as Russell Crowe and Eric Bana, he says, there are no contemporary stars ready to fill that role.
"I'm not trying to shit on Vin Diesel, but if that's what we got now for real men, we got problems," he says.
So what exactly defines a real man on the big screen?
"A real man is what every man wants to be and every woman wants to (have sex with)," he explains. "A real man is not somebody who has to play a real man; he just IS a real man.
"Now what we do in Hollywood is we don't cast for the role, we cast for the money. That's where the real man gets lost."
Messner found his way into movie acting completely by accident.
After a knee injury in high school shattered his aspirations of playing professional football, he went to San Diego State University to major in sports broadcasting. The time spent dabbling in front of a camera intrigued him, so he moved to New York and got accepted into David Mamet's Atlantic Theatre Company.
He did a few off-Broadway plays and the soap "Guiding Light" ("which sucked," he says), then decided to tackle larger stages.
"I moved to L.A. and I just took the stairs - which is always the best way," he explains. "Take the stairs never the elevator."
His first big break came through action icon Bruce Willis, with whom he has already made three films.
"He's one of my best friends," Messner says. "I met him on 'Tears of the Sun.' Basically, we're cut from the same mold. He took me into his camp. He invited me into his family ... I'm almost overwhelmed with the fact he embraced me the way he did. But basically we're the same guy. I'm him 10 years before and a lot poorer."
Messner also came full circle from his fledgling theater days when writer-director Mamet asked him to appear in the acclaimed thriller "Spartan."
"Mamet showed me that no one is your friend," he says of advice the filmmaker gave him about auditioning. "When you go into a room, those people may want you to get the job, but they don't LIKE you. So don't be friendly to them. Don't go in there and try and be like buddy-buddy. Go in there and do your work and get out. When I go into a room now, I own the room."
The actor just returned from Prague where he is working on a new picture called "Running Scared" with director Wayne Kramer ("The Cooler"), who hired Messner after downloading the "Anacondas" trailer.
"It's the sickest movie I've ever done in my life," he says. "It makes 'Pulp Fiction' look like a Disney movie."