Wednesday, December 1, 2004
Regulars at the Free State Brewing Co. have long known that the restaurant's Portobello Parmesan Sandwich is a heck of a good meal -- meaty (though vegetarian), juicy and flavorful.
Now, thanks to a new cookbook, food lovers across the nation will know it, too.
The popular Free State menu item has been enshrined in "American Sandwich: Great Eats from All 50 States," by food writer Becky Mercuri.
In the book, published in October, each state is represented by one hallmark sandwich, the recipe for how to make it and the location of the diner, deli or restaurant where it can be found.
The Portobello Parmesan Sandwich from Free State, 636 Mass., is included as the Kansas contribution to America's favorite meal, the sandwich.
Mercuri, based in western New York, used three criteria to select sandwiches for her book.
"I first look for a sandwich for which the state is known. The second thing I do is look for a product that's used in sandwiches, a product for which the state is known. And the third criteria I use -- and this is what happened with Kansas -- is I look for historical events that tie into an interesting restaurant," Mercuri said in a telephone interview last week.
"And that was absolutely the case with the Free State Brewing Co., because of the Kansas beer-brewing heritage."
Mercuri is going to have a hard time convincing anyone that Free State's Portobello Parmesan Sandwich has achieved iconic status in Kansas, or that the large, brown fungus is a food widely associated with the prairie state.
But she's on target when she highlights a long history of beer brewing in Kansas -- and the role that Free State plays in that story.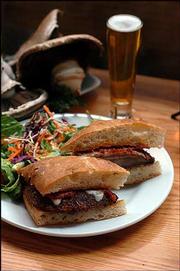 Free State resurrected the state's proud beer-brewing legacy in 1989, when, following the liberalization of liquor laws in Kansas in 1987, the restaurant opened for business.
It was the state's first licensed brewery since 1881, when Kansas had become the first state in the country to enact Prohibition.
Dancing tastebuds
But honestly, when people think of a sandwich beloved by Kansans, doesn't something barbecued come to mind?
Not for this author.
"Barbecue from Kansas City -- everybody (writing a cookbook) does that. People are looking for something interesting and unique," Mercuri said.
To select a sandwich to represent each state, she did Internet research, reached out to personal and business contacts and got in touch with state tourism agencies.
She discovered Free State, and its Portobello Parmesan Sandwich, on the Internet. The restaurant's history and its entire menu are accessible at Free State's Web site (www.freestatebrewing.com).
"I was looking for a brewery restaurant because I knew about the Kansas brewing heritage, and that's how I found them. The other thing I liked was the fact that it's located in Lawrence's renovated historic district," Mercuri said.
She contacted Chuck Magerl, Free State's proprietor, and Rick Martin, the restaurant's executive chef -- and the creator of the Portobello Parmesan Sandwich.
The men agreed to share not only the recipe for the sandwich (adapted for home use), but also the recipe for Martin's sun-dried tomato pesto.
They communicated with the author by telephone and e-mail. Mercuri has not yet visited Free State.
She recalled her reaction the first time she tested the sandwich recipe in her kitchen.
"I said, 'Wow, this is fabulous.' I test every recipe that goes in my book at least twice. The first time I made this recipe, it was like little fun creatures dancing on my taste buds. I've made it several times," she said.
Pesto makes it a winner
The Portobello Parmesan Sandwich itself consists of a seasoned Portobello mushroom, coated in Panko (Japanese breadcrumbs) and fried in peanut oil until golden. It's served on toasted rosemary focaccia bread (from Wheatfields Bakery, 904 Vt.), with melted provolone cheese and homemade sun-dried tomato pesto.
"That's a very popular and unusual sandwich I came up with about five years ago. We were doing a new menu, and we needed an item on there quick," said Martin.
"We always try to have a vegetarian offering on our menu, and a Portobello mushroom makes a great meat substitution because it's so substantial, and the breading gives it an extra dimension in texture."
It's the most popular vegetarian sandwich that Free State serves, according to Martin, ranking right up there in sales with the restaurant's burgers and Golden Grilled Chicken Sandwich.
What does he like about it?
"The texture, the fact that it gives us a great vegetarian option. But it's the sun-dried tomato pesto that brings it all together and gives it a punch," Martin said.
He seemed pleased to have his creation included as the sandwich representative of Kansas in the new cookbook.
"I'm excited about it," Martin said. "I've got a great Christmas gift for my mom now."
Portobello Parmesan Sandwich
Sun-Dried Tomato Pesto
1/2 cup sun-dried tomatoes
4 large cloves garlic
3 sprigs fresh, or 1 teaspoon dried, oregano
1/2 cup freshly grated Parmesan cheese
1/3 cup pine nuts (pignola nuts)
1/2 teaspoon kosher salt
1/2 cup extra virgin olive oil
Place all ingredients, except olive oil, in a food processor and pulse until mixture consists of fine pieces; with the machine running, gradually add the olive oil and process to a paste. Place pesto in a covered container and refrigerate until ready to use.
Yield: approximately 1 cup.
Mushrooms
4 large Portobello mushrooms
1/2 cup olive oil
Salt and freshly ground black pepper to taste
1/4 cup flour for dredging
2 eggs, lightly beaten
1/4 cup milk
3/4 cup Panko (Japanese breadcrumbs)
1/4 cup freshly grated Parmesan cheese
1 quart canola or peanut oil for frying
Preheat the oven to 400 degrees.
Carefully de-stem the mushrooms using a very sharp knife, if necessary, to remove any woody part of the stem. With a grapefruit spoon or soup spoon, scrape the underside gills from the cap and discard them. Bottom side up, generously brush the caps with olive oil, then repeat on the top side, using about 2 tablespoons olive oil per mushroom. Place the mushrooms on a cookie sheet with raised edges and season them with salt and pepper to taste. Bake the mushrooms for 10 minutes, or until slightly soft. Remove from oven and cool.
Place flour in a wide, flat dish or pie plate or on a piece of waxed paper. Whisk together the eggs and milk to make an egg wash and place in another wide, flat dish or pie plate. Combine Panko and Parmesan cheese in a third wide, flat dish or pie plate.
Heat the canola or peanut oil in a deep 12-inch frying pan to 325 degrees. Dredge each mushroom in the flour, dip in the egg wash, and then coat with the breadcrumb mix. Fry the mushrooms, 2 at a time, until browned, about 2 minutes per side, and drain on paper towel in a warm place.
Sandwich
4 sandwich-size portions of freshly baked rosemary focaccia bread, sliced crosswise
Sun-dried tomato pesto
8 thin slices provolone cheese
Fried mushrooms
Pepperoncini for garnish (optional)
Mixed greens with roasted red pepper vinaigrette dressing (optional)
Preheat the broiler and lay the sliced focaccia on a baking sheet. Spread each top slice of bread with sun-dried tomato pesto to taste, then lay a slice of provolone cheese on each top and bottom slice.
Place bread under the broiler and broil until cheese is melted and golden brown. Remove from broiler, place a fried mushroom on each bottom slice of bread, cover with the top, and slice the sandwiches diagonally.
Serve immediately, garnished with pepperoncini and accompanied by a mixed green salad, if desired.
Yield: 4 sandwiches.
Source: "American Sandwich: Great Eats from All 50 States," by Becky Mercuri. Reprinted with permission from Chuck Magerl, proprietor, Free State Brewing Co.