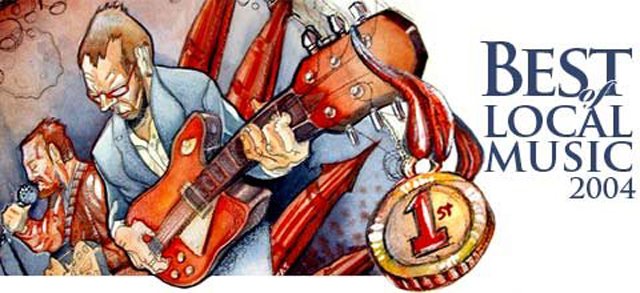 Thursday, December 2, 2004
Step aside, Mannheim Steamroller. Same to you, Bright Eyes.
Lawrence music is where it's at this Christmas season, and Omaha's stale cookies are due for a certified bitch-slapping (just kidding fellas -- ease up on the hate mail, see below).
Yes, 2004 was another banner year for Lawrence music. From the barstool ballads of Arthur Dodge to the hip-hop head-bobbers of Nezbeat, Lawrence musicians churned out enough buttery concoctions to grease the choosiest of ears.
So instead of helping Courtney Love pay off her legal bills this Christmas, skip the Nirvana boxed set (do we really need three more crappy versions of "Polly"?) and pick up one of our favorite local releases of 2004:
If Paul Westerberg had a heart; if Randy Newman had a guitar; if John Mellencamp had a clue: then Arthur Dodge might not have to exist. As it is, Dodge is as much an essential part of growing up in Larryville as any of the above songwriters. Dodge's fourth full-length captures everything the versatile songwriter does best tear-stained ballads, whiskey-soaked rockers and gentle love songs. His husky voice (more "hoarse" than "feathers") presents a standalone argument for overturning the smoking ban, and his band's nimble chops would make any Johnny-come-lately bar band jealous. Screw the Red Sox 2004 was the year of the Dodger. Full review, mp3s, and more on Arthur...
2. Minus Story "The Captain is Dead, Let the Drum Corpse Dance"
While Brian Wilson was resurrecting his lost masterpiece, Minus Story was busy creating its own on a bargain-basement budget. Sans symphonies and psychologists, the band employed a pawn-shop palette of instruments to bring its "corpse" to life bells, drum machines, horns, detuned acoustic guitars and random furniture beatings. The result is a pearl of a record that channels the choicest chunks of Neutral Milk Hotel, John Vanderslice and Modest Mouse and makes you "Smile" all the while. Full review, mp3s, and more on Minus Story...
Dude, the new Anniversary record totally rules! Ha ha, just kidding. Actually, the new Only Children album totally rules. Former Anniversary members Josh Berwanger, Jim David and Christian Jankowski hooked up with blues guitarist T.K. Webb, pedal steel wizard Casey Prestwood and singer-keyboardist extraordinaire Heidi Lynne-Gluck to form a unit that sounded deceptively well-oiled (the group had its first practices together just weeks before recording). The result is an album described by one lawrence.com user (RickSutclif2001) as "KJ meets KY" sort of like an indie rock "Sticky Fingers," with plenty of overt classic-rock influences but enough unique voice to keep it legit. Full review, mp3s, and more on the OC...
The last thing The Get Up Kids should feel is guilty. Lawrence's most worldly band (with dedicated masses in Japan, Europe and beyond) weathered bile-spewing critics, fickle fans and music industry hoop-jumping to release their finest album to date. "Guilt Show" proved to be the "On a Wire" that GUK fans hoped for smart and mature, but mostly just fun. Keyboardist James Dewees earned his stripes with some Meatloaf-caliber piano licks, and Matt Pryor cloaked lyrics like "Trespass fits you like a charm / A scarlet letter on your arm" in the catchiest melodies this side of Bikini Bottom. Full review, mp3s, and more on TGUK...
Dude, the new Gadjits album totally rules! Ok, this is all too easy: Though the name changed, the band's show-stopping revival rock didn't. "Keys to the Building" reminded us why The Black Crowes don't totally suck and why rock and roll still has a few feathers that need to be beaten out of its proverbial pillow. Less consciously hip than any of the "The" bands of '02 (Strokes, Hives, Mooney Suzuki) but nearly as capable, Architects delivered some big-league goods on this independently released album (the band had signed with RCA but was promptly shown the door when the label consolidated : what was Clive Davis thinking?) Full review, mp3s, and more on the Architects
6. Nezbeat "From the Huge Silence"
If URB magazine makes any of the usual 'witty' Kansas jokes in its 2004 year-end issue, it won't be Nezbeat's fault. The local producer's "From the Huge Silence" was the cream of the crop in a healthy hip-hop harvest that also yielded "The Find," "Al Japro" and a nationwide re-release of Approach's "Ultra Proteus." The album displayed remarkable breadth and experimentation, from the N.E.R.D.-esque big beats of "Clear Water Revival" to the indie-rock, trip-hop of "Fade Away to Silence" (featuring The Capsules). Though each track's success was largely dependent on the efforts of its tenants (nearly a dozen local MCs put in guest spots), the landlord kept a pretty tidy house. Full review, mp3s, and more on Nez...
While The Appleseed Cast hibernated, Old Canes drank like fish and puked out "Early Morning Hymns." AC frontman Chris Crisci ditched the amps but kept the intensity, investing Old Canes' folk-informed ditties with as much morning-after bile as the Cast's most vitriolic breakup anthems. Crisci's acoustic guitar begged for mercy as he strummed it like an outcast from a Pogues Tribute band, soothed only by the chimes of Jordan Geiger's bells, trumpet and toy piano. It wasn't punk and it sure as heck wasn't emo, but it contained healthy reminders of why those genres existed in the first place. Full review, mp3s, and more on the Canes...
Eventually, Split Lip Rayfield's records had to catch up with the band's exhilarating live show. "Should Have Seen It Coming" isn't a total blister-busting blitzkrieg of bluegrass, but neither is Split Lip Rayfield. The band can still shred all Kirk-Hammett-meets-Deliverance style, but it can also weep like an alcoholic baby with a broken rattle. "Should Have Seen It Coming" did both with gusto, and Split Lip retained its throne as the area's most potent string band. Full review, mp3s, and more on Split Lip
It's ok to feel, people. Feel sorry, feel sad, feel happy, feel mad just feel. Sam Billen of The Billions isn't afraid to express his feelings, and his solo debut just happens to set those feelings to heavenly melodies that recall Starflyer 59, Built to Spill and Grandaddy. Billen's gentle, reassuring voice could just as easily be singing lullabies to babies. If you like babies, you'll love "Miracles." Full review, mp3s, and more on Sam
One the year's best local releases was also one of its most ambitious. "Cubic Zirconia" mixed the art punk of early Sonic Youth with the sublime tunefulness of Blonde Redhead, delivering four thickly layered songs that were equally rewarding and disturbing. If you really want to hit the New Year in style, throw on "Cubic Zirconia" and howl at the midnight moon. Full review, mp3s, and more on Ad Astra
Honorable mentions
Approach "Ultra Proteus" (re-release)
Drakkar Sauna, "rover"
Midday Ramblers "Bluegrass Music is Fun"
The Golden Republic "People" EP
SoundsGood "Money / Pacin'"
The Belles "Idle Acres"
Al Japro "Seasoned By"
Namelessnumberheadman "Your Voice Repeating"
The Life on Earth "Your Karma Is Coming"
The Capsules "Something for Everyone"
Josh Powers "Scenebooster SoundSystem, Vol. 1"
Filthy Jim "Ride with Death"
Rex Hobart and the Misery Boys "The Good Ain't Gone"
Aubrey (self-titled)
Editor's note
OK Jones, "Middletown"
Though the above writer can't rightly include his own band in his own list of the year's best releases, it would be inane not to mention it here - to say nothing of being unfair to the other musicians on the album - because it is indeed one of the year's best Lawrence releases. Conceived, recorded and released in just weeks following songwriter Richard Gintowt's mutual departure with Ghosty, "Middletown" claims some of Lawrence's best talent: Jeff Jackson on pedal steel, Joe Rankin on drums, Cody Walters on bass, and guest appearances by Charile Rose on banjo, Andrew Connor on guitar, and "Clamp" Erlinger on dobro. The result is like a choice cheap beer (that is, not elitist nor whatever the current hipster beer is, rather like a Hamm's, an Old Style, or an Old Milwaukee's non-alcoholic). The unencumbered Americana rock goes down right smooth on first taste, and continues to satisfy even after continual consumption. It wears well daily, and can - if truth be told - become habit forming. It's exceedingly likeable because the songwriting is mature, the instrumentation is tight, and above all it's unconsciously faithful to its own personality, not a contrived concoction of whatever the herd currently thinks is hip. Hopefully this won't be read as a biased plug for a coworker all the homies genuinely dig the album. Perhaps it should be noted that we've given Mr. Gintowt plenty of shit for his not-so-awesome affected twang on a few tracks. Phil Cauthon
Discs reviewed in 2004
Find these and more local music in our Music section
Filthy Jim "Ride with Death"
Architects "Keys to the Building"
Reach "Joys, Disappointments and the In-Between"
The Ants "Victory Side"
Only Children "Change of Living"
Kirk Rundstrom "Same Ugly Town"
Midday Ramblers "Bluegrass Music is Fun"
Andy Graham and the Moment Band "The Tyrant is Free"
Aubrey self-titled
Rex Hobart and the Misery Boys "The Good Ain't Gone"
Split Lip Rayfield "Should Have Seen It Coming"
The Golden Republic "People" EP
Apollo 13 "Brave New World"
Carrier
SoundsGood "Money / Pacin'"
Nezbeat "From the Huge Silence"
Old Canes "Early Morning Hymns"
The Belles "Idle Acres"
Kelley Hunt "New Shade of Blue"
Al Japro "Seasoned By:"
Kill Creek "The Will to Strike"
Approach "Ultraproteus"
Namelessnumberheadman "Your Voice Repeating"
The Life on Earth "Your Karma Is Coming"
Arthur Dodge and the Horsefeathers "Room #4"
Ad Astra Per Aspera "Cubic Zirconia"
Mad Awkward "Rain Closet"
Evan Saathoff "Sure I Guess So and Maybe We'll See"
Choad "It's All Over Now"
Minus Story "The Captain is Dead, Let the Drum Corpse Dance"
Easterday "1993-1995"
The Capsules "Someone for Everyone"
Jumbos Killcrane "The Slow Decay"
The Find
This Building Is Cursed "Demographic"
The Get Up Kids "Guilt Show"
Primetime Heroes "A Date With Destiny"
Sam "Miracles"
Anything But Joey "Necessary, But Not Cool"
Josh Powers "Scenebooster SoundSystem, Vol. 1"
Top local releases of 2003