Thursday, December 2, 2004
While researching a new book identifying Lawrence locations significant in the life of Langston Hughes, Denise Low and T.F. Pecore Weso made an interesting discovery.
"Every place in Lawrence that Langston Hughes mentioned, or his biographers mentioned, that a racial injustice occurred to him is no longer here, it's gone," said Weso, co-author of the new "Langston Hughes in Lawrence."
The Patee Theater, where Hughes and other black Lawrence residents were turned away, is now just an empty entrance to an alleyway in the 800 block of Massachusetts Street. But St. Luke AME Church, which Hughes attended as a child with his grandmother, still stands in East Lawrence.
"The places where (Hughes) did achieve some kind of social justice are here, in existence and thriving, even," Weso said.
Hughes, the Harlem Renaissance author and poet, lived in Lawrence with his grandmother between 1905 and 1913. As an adult, he wrote 16 books of poems, two novels and numerous other works, becoming one of the leading black voices during the Jazz Age.
Low set out to write the book after the Academy of American Poets this year named Lawrence a national poetry landmark, in honor of Hughes' childhood years here.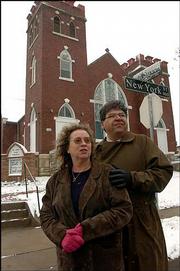 "That was a motivation for me to look at the town again and take a few photographs," said Low, chair of the English department at Haskell Indian Nations University. She was joined in the project by Weso, her husband, who teaches U.S. history at Longview Community College in Lee's Summit, Mo.
The two dug through biographies of Hughes, as well as city phone directories, census records and century-old land deeds to document dozens of sites where Hughes lived, worked, played and went to school.
The book lists Lawrence locations long associated with Hughes -- his grandmother's home at 732 Ala., the Carnegie Library at 200 W. Ninth St., and Pinckney School, 801 W. Sixth St.
But the pair also identified what they believe are previously undiscovered sites that were significant to the author. They say an alley barn at 729 N.Y., for example, is where Hughes wrote in "The Big Sea" that he tended hens and cows as a child.
Langston's Lawrence
Book: "Langston Hughes in Lawrence: Photographs and Biographical Resources"
Authors: Denise Low, T.F. Pecore Weso
Cost: Paperback, $15; hardcover, $23.95
Publisher: Mammoth Publications, mammothpublications.com; Also available at The Raven Bookstore, 6 E. Seventh St.; and Lawrence Arts Center, 940 N.H.
"It's 90 percent sure that Langston Hughes went to that barn and helped James and Mary Reed take care of farm animals," Low said. "This was the edge of town, so it's a different view of Lawrence."
Low and Weso said they were surprised at how many buildings from Hughes' youth are still standing -- a tribute, they said, to Lawrence's preservation efforts.
"It's just real exciting that we have these buildings, whereas in many towns, they've just been razed," Low said.
But why document the locations of Hughes' youth in Lawrence?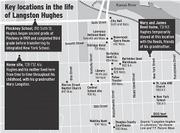 "I think it gives us all a better sense of our own identities," Low said of the project. "It helps younger people growing up to understand who they are, where they came from, the perspective of a historic trace that they are part of, not just plopped down here without any context."
Though Hughes discussed Lawrence as the place he discovered racism, Low said the city also provided good memories to the author.
"Despite the problems he had in Lawrence with racism, he still received a good education; there was still a rich community life," she said, "and I think those are things he carried with him into adulthood and the Harlem Renaissance."