Peter Thornhill rents at least three movies each week. He usually gets new releases on DVD and frequently returns them late.
Rental store giant Blockbuster charges $3.79 plus tax for each new release. A customer may keep the movie for either two days or a week, depending on the newness of its release. If a movie is returned late, the customer is charged another $3.79.
If Thornhill, a Kansas University junior, rented movies from his local Blockbuster, he would spend close to $50 per month -- if he returned them all on time. That doesn't include the cost of gasoline or his time.
"I don't like having to deal with the late fees," Thornhill says. "Plus, I don't like having to get out anywhere and drive."
Luckily for Thornhill, he has found a way to avoid the hassles associated with video stores. He subscribes to Netflix, an online DVD service based in Los Gatos, Calif. Launched in 1998, Netflix is the world's largest online movie rental service with more than two million subscribers.
For $17.99 per month, Thornhill can rent as many DVDs as he wants, with up to three movies out at a time. He keeps the movies as long as he wants with no due dates, late fees or shipping charges. As soon as he returns one, Netflix sends him the next on his wish list.
"Netflix is changing the way people rent movies," says Reed Hastings, founder and CEO of Netflix in a recent press release. "We've eliminated the hassle of due dates and the frustration of late fees that plague in-store movie rentals."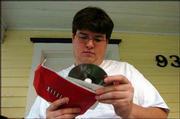 Netflix's biggest competitor, Blockbuster Online, opened its service in August to compete in the growing online market, which immediately triggered a price war. Blockbuster's original fee was $19.99 per month, which undercut Netflix by $2. Since then, Netflix and Blockbuster have both decreased their fees to $17.99 and $17.49, respectively.
"We are determined to do whatever it takes to be the leader in the online rental space," says John Antioco, Blockbuster chairman and CEO on the company's Web site. "We've been extremely pleased with the launch of Blockbuster Online, and in fact, in the first six weeks since the service launched, we've signed up more subscribers than Netflix signed up in its first year of existence."
Both services deliver DVDs free by first-class mail. While Blockbuster has yet to build a full network of distribution centers, Netflix says its 29 shipping locations can reach 85 percent of its members with one business-day delivery. The Kansas City Netflix facility, which serves Lawrence, opened March 29.
"Before the Kansas City center opened, the turnover used to be about four of five days (to get a movie)" Thornhill says. "Now it's two or three."
Both Blockbuster Online and Netflix boast a library of more than 25,000 DVD titles. According to Netflix, the average neighborhood video store has fewer than 3,000 titles, with multiple copies available for only a few of the flicks. Thornhill says a larger selection is one reason he rents DVDs online.
"I tend to pick up movies that aren't big-time blockbusters," Thornhill says. "It's nice because they have pretty much everything."
Thornhill also uses an online service because of the information that a Web site can provide. Netflix provides critic reviews, member reviews, online trailers and recommendations.
"I'll rate the movies after I've seen them," Thornhill says. "Then I look at what other people have written. I think some of the personalized recommendations can provide good leads."
In addition to lowering prices, Blockbuster and Netflix have come up with other gimmicks to attract customers. Blockbuster offers two monthly coupons for free movie or games rentals with each account. Netflix is using original content to entice subscribers. "Voices of Iraq," a documentary filmed and directed by 2,000 Iraqis, was released for rental exclusively through Netflix at the same time as the theatrical premiere of the film.
Thornhill says that gimmicks probably won't convince him to switch companies but that lower fees were a welcome surprise.
"The competition has been good for me," Thornhill says. "I don't have to do anything, and the price just keeps going down."
More like this story on Lawrence.com