There are no fight scenes. No criminal activity. No fatalities. There isn't even any sex.
But in its own way, "Closer" is one of the edgiest movies of the year.
The film is pretty much all talk -- very frank and often explicit talk -- that concerns two couples in London whose relationships start to intersect in sleazy and often painful ways.
Adapted from Patrick Marber's play of the same name, the tale focuses on Dan (Jude Law), a British obituary writer lingering in "the Siberia of journalism" who wants to become a novelist. A chance meeting with an American ex-stripper named Alice (Natalie Portman) leads to a long-term romance.
A year later, Dan is taking head shots for his upcoming book jacket when he meets divorced photographer Anna (Julia Roberts), who he tries to lure into having a liaison with him. Her rejection leads Dan to toy with a vulgar dermatologist named Larry (Clive Owen) in an Internet sex-chat room.
Eventually, Larry and Anna meet. Soon, all of these individuals are emotionally intertwined.
Marber, who also wrote the screenplay, constructs scenes that stress the beginning and ending of each relationship. Like Neil Labute's "In the Company of Men" or several of David Mamet's cinematic adaptations, "Closer" extracts its drama not necessarily from events, but how events that happen offscreen are then discussed and dissected.
Filmmaker Mike Nichols returns to the sexual audacity he showed early in his career with "The Graduate" and "Carnal Knowledge." This is the best feature flick he's made in nearly 15 years, despite continuing to hone his talent in recent cable productions of "Wit" and "Angels in America."
Nichols has lost none of his status as an "actor's director." He culls some fine performances from his "Closer" cast, at least two of which merit Oscar consideration.
Top-billed Roberts is effective in the part, though hardly spectacular. She does have an arrogant maturity that helps sell the character. And it's certainly jarring seeing "America's sweetheart" delivering such intimately filthy phrases. (Roberts replaced Cate Blanchett, who withdrew from the project after becoming pregnant.)
Law brings his inherent boyish charm to the piece. Even though the actor is known as a matinee idol these days, it's important to remember the majority of his early roles were as villains and cads. That legacy serves him well.
Yet "Closer" is really taken to another level by the performances of Portman and Owen.
Movie
Closer
*** 1/2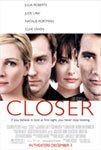 "Closer" is pretty much all talk - very frank and often explicit talk - that concerns two couples in London (Jude Law and Natalie Portman; Clive Owen and Julia Roberts) whose relationships start to intersect in sleazy and often painful ways. Adapted from Patrick Marber's play, the film boasts some edgy, Oscar-worthy performances.
The 23-year-old actress crafts a perfect arc of someone who starts as a headstrong girl and ends up a jaded woman. The picture opens with a chance meeting between her and Law that is as charming as any to be found in a romantic comedy. (For such a "heavy" film it begins quite delicately). But as the fling gets more complicated and eventually turns sour, she makes all these emotional phases believable.
Portman and Owen share a scene together in a strip club (where she is now working) that is especially raw for a mainstream movie. The surly doctor is drowning his anger and sorrow about being dumped by enjoying a lap dance in a private room. As he continues to feed her money, it becomes clear that he is far more interested in information than titillation.
Owen is simply one of the best actors working today. He's proven himself in efforts such as "Gosford Park" and the recent "King Arthur" (heck, he was even good in "Beyond Borders"), but this showing places him in a different pool of performers. He also rivals fellow Brit Alan Rickman for possessing the best voice in the business.
Although Owen's character is arguably the cruelest of the four players, by the end of the film he is also the most likable. Given the secretive nature of the other three individuals, there is something about his bluntness that is utterly refreshing.
"Thank you for your honesty," he praises Roberts after grilling her about the lurid details of an affair. "Now (expletive) off and die."
If only more movies weren't afraid to treat romantic relationships with the brutal frankness they usually deserve.