For his last movie, writer/director Alexander Payne got powerhouse acting legend Jack Nicholson to move to Omaha, Neb., for more then a month to shoot the Oscar-nominated "About Schmidt."
Before that, he revitalized Matthew Broderick's career and made a star out of a budding young actress named Reese Witherspoon in 1999's Oscar-nominated "Election." In casting his newest, sure-to-be-Oscar-nominated "Sideways," it would have only been natural for him to take his pick of Hollywood's A-list lining up to be in a Payne film.
Instead, "Sideways" features in its four main parts:
¢ Paul Giamatti, an overweight, balding character actor who, until last year's "American Splendor," was best known as "Pig Vomit" in Howard Stern's "Private Parts."
¢ Thomas Haden Church, a deep-voiced, severe-looking actor best known as Lowell (the dumb one) on NBC's "Wings" and the short-lived "Ned & Stacey."
¢ Virginia Madsen, who hasn't done anything in a while, perhaps best known as the princess in "Dune" and the schoolteacher in the Christopher Walken cult movie "The Prophecy."
¢ Sandra Oh, an actress best known for being on that awful sports HBO sitcom "Arli$$"; she's also the director's wife.
Having seen the film, I can't imagine anyone else in any of their roles.
The beauty of a script by Payne and collaborator/co-writer Jim Taylor -- particularly that of "Sideways" -- is that underneath its characters' surfaces lurks painful reality; they're not just glib Hollywood facades. When failed novelist and wine aficionado Miles (Giamatti) embarks on what he thinks will be a relaxing, weeklong trip through California's beautiful wine country with his shallow, ladykiller pal Jack (Church), it becomes clear that Jack is lying to him. We get the idea that Miles has been misled by his friend before because as their journey slowly derails, Miles accepts it with the sort of resigned frustration borne of repetition. And the actors' low profiles serve to make empathizing with them all the more natural.
Jack, an ex-soap opera actor now mostly relegated to TV commercials, is the kind of guy who is used to getting what he wants. He's trying to set up his perennially depressed friend, but Miles' failed marriage still haunts him, and the prospect of getting involved with another woman is as enticing as drinking a crappy merlot.
Payne shows how uncomfortable the process of self-examination can be. Jack is constantly telling Miles to loosen up and have some fun, that taking some pills and going to a therapist are a start, but he's got to "get out there and live life." But if that means acting like Jack (making promises to another woman the same week you're getting married to someone else), then Miles wants none of it.
Movie
Sideways
*** 1/2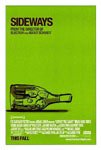 Writer/director Alexander Payne ("About Schmidt") has a specialty for finding wicked humor in unguarded and awkward moments. Two friends (Paul Giamatti and Thomas Haden Church) set out for a bachelor-style tour of California's wine country and instead get a face-full of uncomfortable nudity and a broken nose.
What really sets "Sideways" apart are the achingly real moments between these two friends and the members of the opposite sex. Considering that they're middle-aged and single, these characters have way more hang-ups than your average frustrated teenager looking for love.
When Miles and Maya finally get some time alone, they talk of wine, a subject they both feel comfortable with. He tells her that to truly appreciate a pinot noir, you must be patient and recognize its subtleties. It isn't long before you realize he's really talking about himself, and when Maya responds in kind, a moment passes between them. Miles realizes it and backs away from a kiss, only to immediately excuse himself to the bathroom, where he curses himself in the mirror.
"Sideways" is not interested in being a buddy movie or telling an easy love story. It's about the intricacies of friendship, getting older and finding what makes you happy. It's also very funny, and after Kathy Bates' much-talked about hot tub scene in "About Schmidt" and a hilarious moment in this film involving a white trash couple and a naked man running, I am becoming convinced that Alexander Payne has an "uncomfortable nudity" fetish.
Finding wicked humor in those unguarded and awkward moments is Payne's specialty, and he has proven with "Sideways" that you don't need star power to keep an audience laughing ... or crying.