In Oliver Stone's 1988 film "Talk Radio," shock jock Barry Champlain plays the part of an indignant crusader who "tells it like it is" and enrages the moral majority in the process.
It's a story that's perhaps even more pertinent today than it was in 1985, when writer/actor Eric Bogosian first performed "Talk Radio" and caught Stone's attention. Fortuitously, Howard Stern became all that just a year later, thrusting the talk-radio format into the limelight helping it take a nose-dive into the dark abyss of moral vacuousness.
Nearly 20 years later, talk radio - from Stern to Rush to "Air America" - is still giving the people what they love (or love to hate). And in the estimation of E.M.U. Theater artistic director Todd Schwartz, the time was nigh to re-examine our country's voyeuristic and perverse obsession with trash talk.
"We take regular people, we put them on the Jerry Springer Show and we laugh at them - not with them, at them," said Schwartz, who is directing E.M.U.'s production of "Talk Radio."
"Our public has become the entertainment, and talk radio I think was one of the first warning signs of that."
EMU farm
E.M.U. Theater was founded in1998 to bring locally written plays to the Java Break coffeehouse. Schwartz is one of approximately 200 volunteer actors, writers and set builders who have helped execute 22 E.M.U. shows over the past six years in Lawrence (though, he says, no one remembers what their name's acronym stands for). Schwartz is a proponent of the troupe's central belief: that alternative theater (i.e. "poverty-stricken" theater) is the shortest route to artistic fulfillment.
Past Event
Sunday, December 5, 2004, 8 p.m.
Ecumenical Campus Ministries, 1204 Oread Ave., Lawrence
All ages / $5
"Most actors will take a job if it pays the bills," said Schwartz, who left an unfulfilling career as a dinner-theater actor to pursue his dream of working with an independent theater troupe.
"They're usually encouraged to by the more vocationally centered acting programs in colleges around the country - to take commercial work, to do dinner theater and work in amusement parks and things like that. Sure, you get a paycheck, but at the end of the day after nine hours of rehearsal... you're tired from doing somebody else's work."
The catch, of course, is money - you can't actually expect to make any. Though Schwartz will soon draw a small salary as the company's artistic director, he feels fortunate that his wife allows him to pitter-patter around with his dreams while she brings home the bacon (he earned the privilege by helping her though grad school).
"You'll never see gigantic sets in our productions with helicopters that fly onto the stage and things like that," Schwartz said. "If the actors act like there's a set there, then the audience believes it."
Lip service
"Talk Radio" follows loudmouth talk show host Barry Champlain as he begins national syndication and wrangles with cockeyed callers and unhappy sponsors. Though Champlain believes he's offering a public service by offering a forum for discussion, he ultimately must grapple with the fact that his show's bottom line is entertainment.
"He has a noble purpose that he's trying to fulfill, but I think like most people he falls a little short," said E.M.U. cofounder Andrew Stowers, who portrays Champlain.
Stowers said he's been purposely avoiding talk radio since getting the part, so as not to base his character too much on any one jock.
"The best talk radio's always on late at night anyways," he said. "You gotta listen at like three or four in the morning because that's when all the people talking about time machines and aliens are on."
According to interviews with screenwriter Bogosian, the show was partly inspired by the grisly 1984 murder of Denver talk show host Allen Burg. The Jewish radio personality was gunned down in his driveway by a neo-Nazi group.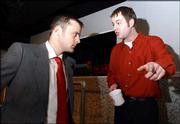 "That, I think, was the impetus originally for the concept behind this show - that there are people who believe so strongly in certain issues that they are willing to kill for them," Schwartz said.
The play also challenges people to consider why they tune in to certain talk programs: Do they enjoy laughing at others' misfortunes? Do they take comfort in hearing the media reinforce their beliefs?
In Schwartz's opinion: "People tend to tune into those talk radio show hosts whom they most agree with and they lose out," he said. "Everything that goes against the grain of their own personal belief system gets filtered out ... so they're missing half the story all the time."
Weekend warriors
While a small contingent of E.M.U.'s 20-person cast has professional ambitions (and temp jobs), the larger group is made up of theater enthusiasts who are simply along for the ride.
"We have housewives, people that own their own businesses, retired professors - any walk of life you can imagine," said Rachel Sorrels, who portrays Linda MacArthur, Champlain's assistant producer and love interest.
The show will be the first of a five-show season for E.M.U. that will also include at least a couple shows by local playwrights. According to Schwartz, original plays are a big part of what has kept E.M.U. inspired.
"For a small independent theater company to be around for six years and be continually producing plays is a small miracle," he said. "It's a great feeling to know that I'm coming into work with a large group of other people who feel the same way about the arts as I do - who feel like the artist has been exploited."