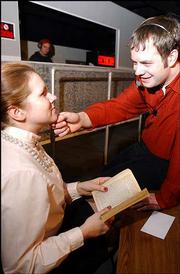 Barry Champlain is a profane, angry motormouth contrarian, a man willing to insult you for your opinion no matter what opinion you hold -- who will, in fact, insult you for precisely the opposite reason he insulted another person five minutes ago.
So, of course, he's the perfect radio personality.
"This country, where culture means pornography and slasher films ... is rotten to the core," Champlain snarls at the beginning of his nightly show, though he's dimly aware that his own performance is itself a kind of pornographic act.
Champlain is the central character of "Talk Radio," the new E.M.U. Theatre production that opened Friday. The play is set in 1985, before the rise of Howard Stern, Rush Limbaugh and a whole generation of shock jocks whose over-the-air anger had more to do with pumping up ratings than with actual outrage.
Andrew Stowers, who plays Champlain, is note-perfect in capturing the deep-voiced pomposity of a big-city radio host on the eve of national syndication.
He takes calls from a woman afraid of her garbage disposal, a nuclear power protester, a 15-year-old girl who has discovered she is pregnant and a punk kid who pretends, over-the-air, that his girlfriend is dying of a drug overdose.
Past Event
Sunday, December 5, 2004, 8 p.m.
Ecumenical Campus Ministries, 1204 Oread Ave., Lawrence
All ages / $5
Champlain, it is apparent, doesn't care what his callers have to say, or what he has to say in response. He just doesn't want them to be boring.
When an angry caller assails him with an anti-Semitic rant, he keeps the call going even as she dares him to cut her off.
"I won't cut you off," Champlain says. "You're too interesting."
And so Champlain becomes an audio Rorschach test -- one caller telling him he's a good man (even though he isn't), another caller assuring Champlain that the host believes in God (though it's not clear the disc jockey believes in anything but himself).
Champlain assures one caller he's her best friend, even though he's never met her, and tells her to dump another friend. He pretends to be a problem solver even though his only purpose is exploitation.
In other words, "Talk Radio," a 20-year-old play, neatly sums up today's media-saturated era.
The set design by Todd Schwartz and Jeff Sorrels is great, with a radio studio that looks very much like the real thing. Lighting by Claven Snow was mostly good, except for one scene with Barry's producer, played by Kevin Siess, where a silent extra in the background could be seen better than the dimly lit actor in the foreground.
And though Stowers ably holds the play together with his performance, he is aided by the nine actors who are never seen in the show -- radio callers who perform using only their voices.
"Talk Radio," directed by Schwartz, shows again today at Ecumenical Christian Ministries, followed by performances Dec. 10- 12. All performances begin at 8 p.m. Tickets are $5.