Tuesday, December 14, 2004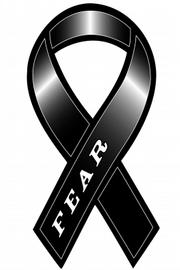 Let people know how scared you are with the new lawrence.com 'FEAR' memorial ribbon. Do you fear our nation's impending destruction at the hands of our own government? That's a good one. How about a fear of people who believe a war on terror will be solved with car ribbons? Sure, that's good, too.
But how about fears closer to home: Do you fear the encroaching tidal virus from the west? Do you fear that you'll never own property? Do you fear a city council that would govern your bowel movements given the slightest opportunity?
Or how about the fear of a future without the churlish barbs provided to you weekly by a ragtag band of homies who exist only to please you? (shudder to think)
Supporting lawrence.com's advertisers ensures a future that includes plenty of homestyle goofery. (2008 UPDATE: Especially in these turbulent economic times, what with the impending economic apocalypse and all-ed.) And anyway, without lawrence.com, there would be a lot more to be afraid of. You can believe us. We'd be unemployed, brimming with ennui, and up to no good. No good at all.
Think locally.
Consume thoughtfully.
Floss regularly.