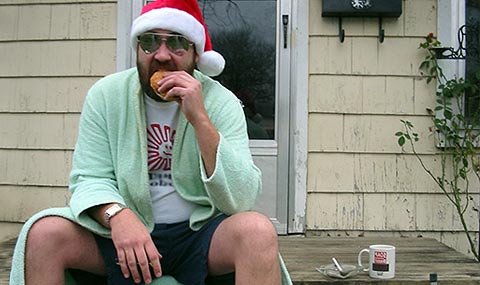 Tuesday, December 14, 2004
Once a year, about that time, Slick Rhodes stumbles into Lawrence to present his "Holiday Parade of Hits." Though the enigmatic singer/songwriter's personal life is largely shrouded in mystery, we caught up with his "tour manager" Arthur Dodge before a stop in Branson, Missouri. Here's the story of Slick Rhodes as told by his "tour manager," who most definitely "isn't" actually Slick Rhodes, who most definitely "isn't" actually the guy who wrote the number one record on lawrence.com's Best-of-2004 list, and whose initials most definitely "aren't" the same as "Ass Dumpling."
lawrence.com: Who is Slick Rhodes?
Arthur Dodge: Slick Rhodes is a lounge singer. He is a keyboard player, ergo the name "Rhodes." He played in Deep Purple for like two years. He got kicked out in like '74.
What did he do?
He slept with one of the dude's wives.
Which one?
I don't know. I don't know who the dudes are. But he slept with one of the dudes' wives.
Past Event
Thursday, December 16, 2004, 10 p.m.
Eighth Street Tap Room, 801 N.H., Lawrence
21+ / $2
Does it really matter?
It doesn't really matter. Actually, he slept with all of his band members' wives.
Yeah, that's better.
But he hails from Galveston, TX, where he's been for the last decade. He has a weekly gig at Duck's Roadhouse down in Gally.
What type of set does he do?
Well he only tours anymore to do Christmas standards. The only thing he leaves Gally for is Christmas. He basically starts his Christmas tour in like October and hits the northwest and whatnot, and then slowly makes his way back to Texas by Christmas. It's all Christmas standards with his own special Slickness. And he does play with a drummer from time to time - Biff Diddle.
How has the tour been so far?
Pretty good. There's been broken bones along the way - not his, of course. Then there's just numerous teenage girls and things like that. He actually has a team of four lawyers that try to keep him out of trouble. He's been touring solo for most of these Christmas shows 'cause Biff and him have a real rocky relationship. They go back to the '70s, you know. It was kind of the same thing, where Biff slept with like seven of Slick's ex-wives ... But they're back together for this jaunt of the tour.
So tell me a little about the selection of material he'll be performing on this tour.
It's Christmas standards, pretty much. There's a few original Slick-penned Christmas songs, but they're mostly the hits. There's no new contemporary stuff - nothing that was wasn't written before, you know, 1940, or whenever those damn songs were written. There's your "Winter Wonderland," your "Jingle Bell Rock," there's all that stuff. But there's no "Grandma Got Run Over By A Reindeer."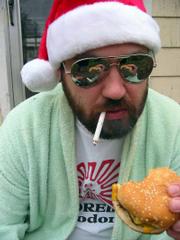 Not a fan of the Bright Eyes Christmas album or any of those alt-rock Christmas compilations?
That's all hack stuff. This has old-school entertainment value.
How many times has Slick been to Lawrence?
He's been to Lawrence I guess the last three years now. Or maybe it's four ... I don't know.
The first two were a little blurry.
Yeah.
What's his costume like?
He dresses in holiday fare, and he encourages the crowd to.
Any particular suggestions?
Oh, red and green, bras and panties, you know.
Why would people want to pay $2 to see this show?
Well, they'd want to pay ten, but they're allowed to pay two. It's really a show for lovers - Christmas lovers. It's a warm-and-cuddly, round-the-fire, crackling-brimstone-and-shit feeling. You know, chestnuts roasting on an open crack pipe and all that stuff.
Is there anything else that needs to be said?
You pretty much just have to see Slick to believe it. And just keep in mind he takes requests. But he doesn't play them.