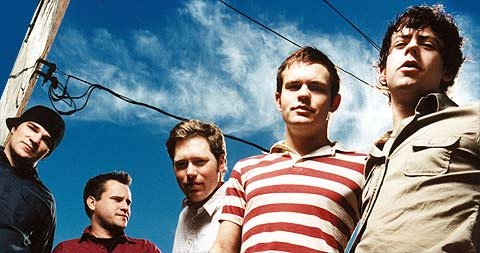 Tuesday, December 14, 2004
For the last six months, Matt Pryor has been sleeping.
Poorly.
"I usually get up around six," says Pryor, who has been on hiatus from his band The Get Up Kids for six months following the birth of his second child.
lawrence.com checked in with Pryor to see how his sanity was holding up (not so well) and also to see how his musical endeavors were coming along (well). The Get Up Kids will soon be practicing for a hometown show (Jan. 7 at the Granada), which will be recorded for a live album (possibly a DVD) to be released sometime next year. Meanwhile, Pryor's "side" project, The New Amsterdams, is opening for Jimmy Eat World as well as working on a children's album.
Seriously. A children's album.
"It's not like I'm a big fan of the genre or anything," he says. "I just wrote songs and changed the subject matter to be about, like, dinosaurs and owls and bugs."
Stay tuned to lawrence.com "online" edition for an extended preview of The Get Up Kids' show and more...