Friday, December 17, 2004
Animated birds chirp, and a happy elf prances about a fertile countryside. A choir sings a tune called "Loverly Spring." This cheerful intro plays like a lost Rankin-Bass stop-motion piece from yesteryear.
Then the viewer is abruptly told, "I'm sorry to say, this is NOT the movie you'll be seeing."
Instead, a darkly funny tale about "a terrible fire, dim lighting, high tragedy, a giant snake, low comedy, man-eating leeches and Jim Carrey" begins to unfold.
Although past authors from the Brothers Grimm to Roald Dahl have managed to fuse children's literature and black humor, few films have been able to juggle such an approach. "Lemony Snicket's A Series of Unfortunate Events" is the rare modern production to master this tricky tradition. It's a triumph of cranky style, sharp writing and eccentric acting courtesy of Carrey.
Think "Willy Wonka" meets Charles Dickens.
The theatrical version of Daniel Handler's popular series of books introduces us to the three Baudelaire children.
Violet (Emily Browning) is the greatest 14-year-old inventor in the world; middle child Klaus (Liam Aiken) is a book lover who retains the knowledge of everything he's ever read; and toddler Sunny (Kara and Shelby Hoffman), well, she's good at biting things.
The Baudelaire's world is shattered when their parents are killed in a mysterious fire at the family mansion. The wealthy orphans are taken in by greedy relative Count Olaf (Carrey), an aspiring thespian who hopes to snatch their inheritance.
"I will raise these orphans as if they were actually wanted," he boasts.
When the kids wise up to his scheme, they escape to other distant relatives, from a jovial herpetologist (Billy Connolly) to a panophobic aunt (Meryl Streep). But Count Olaf is always one step behind, disguising himself in a variety of ways to try and reclaim the resourceful Baudelaire trio.
Movie
Lemony Snicket's A Series of Unfortunate Events
*** 1/2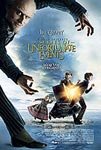 Although authors from the Brothers Grimm to Roald Dahl have fused children's literature and black humor, "Snicket's" is the rare cinematic production to master this tricky tradition. It's a triumph of cranky style, sharp writing and eccentric acting, courtesy of Jim Carrey who play a greedy Count trying to inherit the fortune of three orphans.
Carrey has already enjoyed a remarkable year. He gave his finest dramatic performance in "Eternal Sunshine of the Spotless Mind," and now he supplies one of his most purely enjoyable comedic turns. The glory of the role is that Olaf himself is a hammy actor, so even when Carrey occasionally slips into his inevitable mugging, it's perfectly in character.
The manic Carrey may be the star of the film, but those responsible for the production design are the MVPs.
With its exaggerated, slightly disturbing visuals, "Snicket's" looks like one of the best Tim Burton movies that Burton never made. The sets themselves are some of the most memorable of this year, from Aunt Josephine's house perilously poised on stilts overhanging a cliff to a reptile room that is alive with slithering creatures.
The movie often combines contemporary and Victorian influences into hilarious hybrids. For instance, cars are equipped with modern conveniences, but the dashes feature 1950s-syle handset phones and reel-to-reel players instead of cellulars and DVDs. This allows screenwriter Robert Gordon (who wrote the outstanding sci-fi parody "Galaxy Quest") and director Brad Silberling (a previously undistinguished filmmaker responsible for "Moonlight Mile" and "Casper") to revel in old-school imagery without having to give up pop culture punch lines.
Also quite amusing is Jude Law, who provides the voice of Lemony Snicket and delivers some of the wittiest narration this side of "Arrested Development." Right before one particularly nasty juncture, Law breaks in to say, "This is an excellent opportunity to walk out of the theater, living room or airplane where the film is being shown."
"Sincket's" gets a tad sloppy during its third act. The picture never satisfactorily explains what the secret society is that the kids' parents belong to, or how the specific sidearm they carry is important. And for a flick that is so relentlessly imaginative, the climactic showdown sure develops predictably.
Fortunately, Handler has crafted 11 books in the "Lemony Snicket's" series. (This movie spans the first three.) So perhaps some equally enjoyable sequels will turn up at multiplexes in the next few Decembers.
As the tagline states, we can always use "a holiday movie without all that pesky hope and joy."
More like this story on Lawrence.com