Friday, December 24, 2004
I have seen all but one of the scheduled biopics that are opening for this year's winter Oscar rush, but I have serious doubts that there will be a more engaging and exciting biography this year than "The Aviator," Martin Scorsese's breathless take on Howard Hughes' glory years.
Like Jamie Foxx in "Ray," it features a bravura performance from its lead actor, Leonardo DiCaprio. Unlike "Ray," it is flawlessly paced and never loses steam. And unlike anything in "Alexander," it takes extraordinary real-life events and populates them with deftly characterized historical figures who leap off the screen.
To say there's a lot of ground to cover when considering the life of Hughes would be an understatement. The screenplay by John Logan ("Gladiator") wisely focuses on the years between Hughes' obsession with making Hollywood films and completing the largest plane ever constructed, widely known as the "Spruce Goose."
Obsession is a major theme in "The Aviator."
The film opens in the late 1920s, and Howard's famed penchant for limitless spending is on immediate display as he forks over $3.8 million to complete his silent World War I fighter plane epic, "Hell's Angels." After a big wrap party, Howard re-casts and re-shoots most of it to keep up with the new advent of sound pictures. His strive for perfectionism was often in direct conflict with his bank account.
Hughes' life contains plenty of wild stories for each phase of his career, and Scorsese utilizes some of these examples to hilarious effect. One jaw-dropping scene occurs with Hughes himself in the cockpit of one of the "Hell's Angels" bi-planes, navigating dangerous aerial maneuvers. The pilots are instructed to fly reckless patterns over Los Angeles, and Howard's own mounted movie camera is smashed by a near-crash with another plane. Undeterred, Hughes pulls out a hand-held camera and films the life-threatening madness surrounding him while standing up in the cockpit with both hands off the steering column, oblivious to the danger. Scorsese's effortless technical mastery in designing and cutting together scenes like this elevates "The Aviator" from entertaining to simply amazing.
Another excellent aspect of the film is the economical way the director reveals his main characters to the audience. The famous people that populated Hollywood in the '30s and '40s have left their own mark on our collective consciousness, yet Cate Blanchett dares to show us the sensitive side of an icon like Katharine Hepburn. What begins as merely an impression of the fiercely independent movie star soon emerges as a three-dimensional portrait. Blanchett's Hepburn is a thick-skinned woman whose surprising responsiveness to Hughes only grows when she realizes his withdrawn nature. But rather than stay with any one element of Hughes' life for too long, the movie maintains its fast pace while making every moment a key one in illustrating characters like Hepburn and Kate Beckinsale's Ava Gardner more vividly.
DiCaprio succeeds fully in presenting Hughes' more endearing side, a remarkable feat considering Howard's maligned reputation. "The Aviator" explores Hughes the dreamer, a man who had a brilliant aviation mind and drive for perfection that frequently led to self-destruction. DiCaprio grows into the role as the film progresses, and we get glimpses of the mental illness that would so cripple the eccentric millionaire in his later years.
Movie
Aviator
****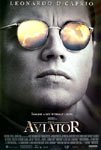 Martin Scorsese's breathless biopic of eccentric aviator/ millionaire/ filmmaker Howard Hughes is a fractured tale of the American dream touched by madness. Leonardo DiCaprio gives the performance of his career, and Scorsese's technical mastery in the exciting aerial scenes is rivaled only by his economical storytelling.
What "The Aviator" has that "Alexander" completely lacks is a point-of-view of its subject. Rather than have a toga-wearing oldster like Anthony Hopkins saunter around some Greek palace philosophizing about the great warrior's life, we get to experience the real-life events in "The Aviator" through Hughes' personal journey. For a man who had trouble expressing himself, this is key, and Scorsese understands it. A funny scene that puts Hughes on the defensive with the upper-crust, liberal Hepburn clan in New England also serves to create great empathy for Howard, and DiCaprio plays it all with a wonderful sense of bewilderment and frustration.
"The Aviator" may seem like a fantasy, but these heights were actually climbed by a real person, a driven genius with a vision that went beyond the limits of his own incredible fortune. Scorsese is one of the world's best directors, and his take on the fractured American dream is one of the best films of the year.